Michel van der Aa: reviews of Blank Out premiere
(May 2016)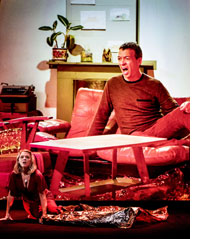 Michel van der Aa's new music theatre work, premiered to acclaim in Amsterdam in March, seamlessly blends music and 3D film
<DIR=LTR align="left">Blank Out, Michel van der Aa's new music theatre score, was unveiled in March at Dutch National Opera's Opera Forward festival, showcasing cutting-edge stageworks that are extending the medium. Its compact performing forces make the new work ideal for practical staging and touring: soprano Miah Persson is the solo singer on stage, while baritone Roderick Williams appears on film, with accompaniment provided by a soundtrack combining voices of the Netherlands Chamber Choir with electronics.

A house by the sea is the setting for memories of a tragic drowning told from the twin perspectives of mother and son. Texts by the composer are combined with poetry by South African writer Ingrid Jonker that explores van der Aa's key themes of psychological trauma, the unreliability of memory, mirrors and alter-egos.

"…a fascinating mixture of film, music and acting… Van der Aa creates tension between physical and digital reality and creatively investigates a variety of forms of interaction. What you see and what you hear have enormous poetic and suggestive power… Van der Aa has written a wonderful, colourful score, sublimely performed…"
Theaterkrant

"High-tech opera blends pleasure with primeval fear… In Blank Out Van der Aa has explored the boundaries of what is technically possible. Miah Persson films herself on stage and her images blend with earlier film material of Roderick Williams or a cottage on the dyke… the result is highly enjoyable, magical music and images…"
Het Parool

"A wonderfully fluent and effective piece of music theatre… Miah Persson's live singing combines with replayed loops of herself on film to create haunting ensembles, and at the opera's climax her lines are counterpointed with those of Roderick Williams on film too, each character locked into his or her own sense of reality. Williams sings with his usual intelligence and compelling sincerity on the film, while the live performance is an astonishing tour de force for Persson, meticulous in its detail, and perfectly controlled."
The Guardian

"Van der Aa's music is frequently not only unusually beautiful, it also succeeds in presenting a highly individual blend of a cappella choral music, soundtrack, lyrical vocal lines and thumping techno as a natural amalgam… After 75 minutes one is left with questions that both tease and please."
NRC Handelsblad

The premiere run of Blank Out in Amsterdam was followed by a series of performances in May at the Teatro dell'Opera in Rome, and the work will be staged at the Lucerne Festival in 2017. This season has also seen performances on both sides of the Atlantic of a new English version of van der Aa's The Book of Disquiet starring actor Samuel West, and a feature in and around Lyon including six French premieres.

A recording of two van der Aa works premiered in 2014 has recently been released on the Disquiet Media label. Janine Jansen is soloist in the Violin Concerto with the Royal Concertgebouw Orchestra, the performance being described as a "virtuoso showpiece for the soloist" (NRC Handelsblad). Hysteresis for clarinet and ensemble features Kari Kriikku and takes its name from materials which have a 'memory' of previous states. The Guardian, reviewing the premiere wrote of "a thrilling display piece, with the composer's inventive percussion writing and use of a soundtrack adding distinctive perspectives to the accompaniment."
> Further information on Work: Blank Out
Photo: Dutch National Opera

Boosey & Hawkes Composer News