Michel van der Aa's new film opera Upload on stage and screen
(July 2021)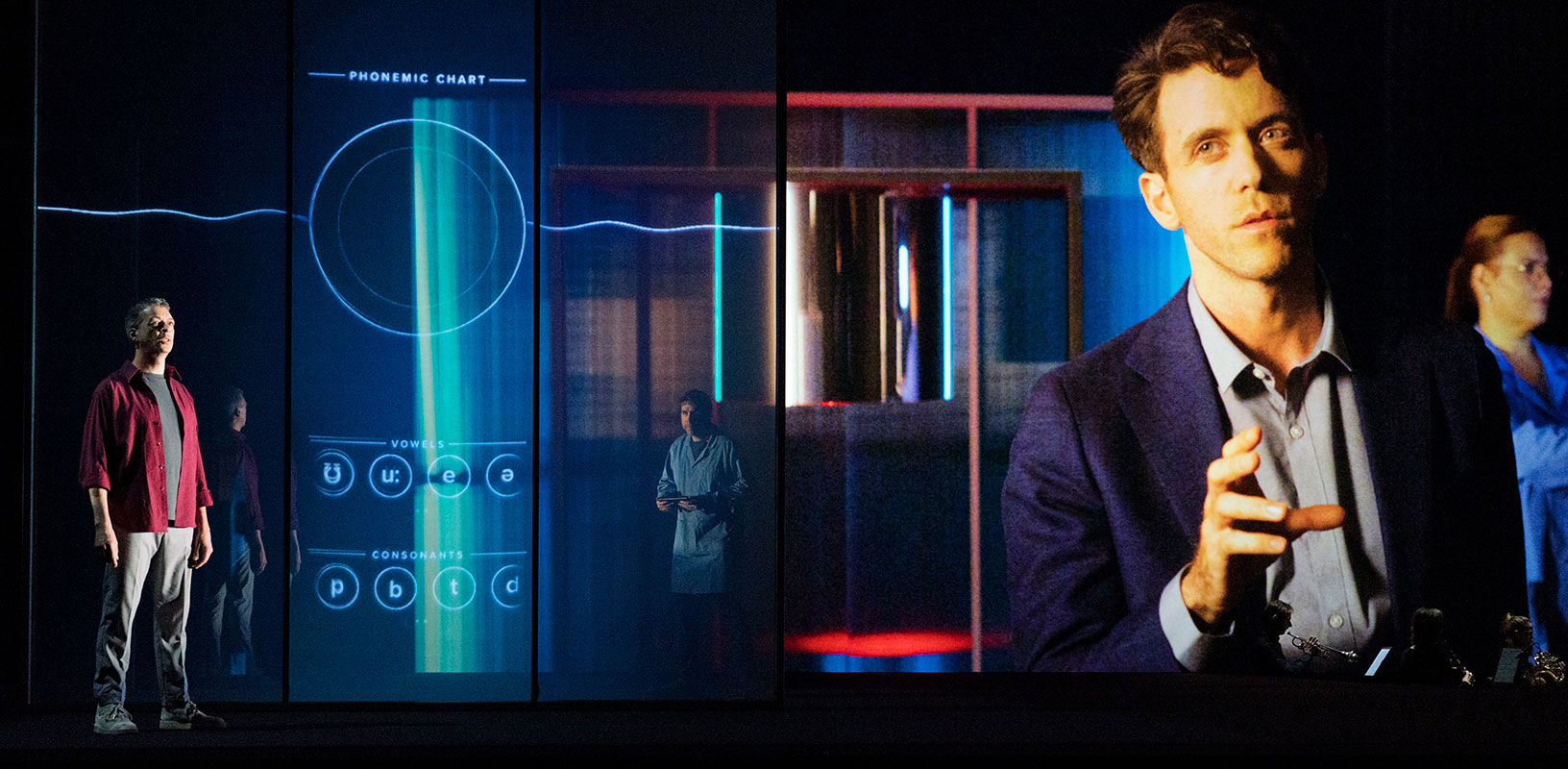 Upload, the new film opera by Michel van der Aa exploring how life could become eternal in the digital sphere, receives its stage premiere at the Bregenz Festival on 29 July. A film version will be screened by Medici TV and streamed by Dutch National Opera from 16 July.
The world stage premiere of Michel van der Aa's new opera Upload is presented by the Bregenz Festival in Austria on 29 July starring singers Julia Bullock and Roderick Williams. Otto Tausk conducts the Cologne-based Ensemble Musikfabrik and the direction of the stage production and immersive film are by the composer. The Bregenz premiere is followed by performances at Dutch National Opera in Amsterdam this October, and at Park Avenue Armory New York and Opera Cologne in future seasons.
A film version of Upload, created by Michel van der Aa during the COVID pandemic, will be premiered on Friday 16 July on demand by subscribers from the Medici.tv channel (except in the USA) and, starting the same day, can also be streamed with a ticket from the Online Performances section of the Dutch National Opera's website (in Netherlands only).
> Stream from Medici.TV
> Stream from Dutch National Opera
Michel van der Aa has embraced the integration of live music and theatre with state-of-the-art video and sound technology. Upload tells its story through live action, motion capture technology and immersive 3D film. The opera further explores themes which have dominated Van der Aa's pioneering output: memory and mortality (After Life, 2005-06), multiple identity (The Book of Disquiet, 2008), alternative worlds (Sunken Garden, 2011-13), recollected trauma (Blank Out, 2015), and virtual reality (Eight, 2018-19).
The new opera is about a man in his fifties. He suffers from an unnamed disease that is slowly robbing him of his mental life and from which he knows he will die. He is a writer and asks to be uploaded to preserve his spirit and prolong his time with his daughter. The opera follows two timelines: the present, just after he is uploaded; and the recent past, the process of uploading. Free from his failing physical body, he is expected to be happy and not in pain. But something disturbing in the man's past begins to interfere with his virtual presence - a secret he has kept from his daughter for years. She tries to understand why he resolved to undertake the experiment. Is he still the same person? And what rights does this digital human copy have?
Upload was written, composed, and directed by Michel van der Aa, and created in close collaboration with set and lighting designer Theun Mosk, dramaturgs Madelon Kooijman and Niels Nuijten, costume designer Elske van Buuren, director of photography Joost Rietdijk, motion and real-time graphic artist Darien Brio, VFX and fractal artist Julius Horsthuis, and a top-notch technical team.
Upload is commissioned by and co-produced with Dutch National Opera, Cologne Opera, Bregenz Festival, Ensemble Musikfabrik (with the support of experimente#digital – a cultural initiative of the der Aventis Foundation), Park Avenue Armory New York and the DoubleA Foundation. The two performances at the Werkstattbuhne in Bregenz on 29 and 30 July follow cancelled dates in Amsterdam and Cologne due to COVID, now rescheduled, with five performances at Dutch National Opera in Amsterdam opening on 1 October.
> Further information on Work: Upload

Boosey & Hawkes Composer News