Neuwirth's Lost Highway: UK premiere by ENO
(March 2008)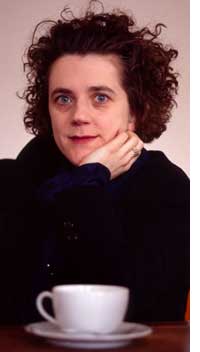 Olga Neuwirth's Lost Highway: UK premiere by ENO at Young Vic Theatre
Olga Neuwirth's remarkable operatic adaptation of David Lynch's cult film Lost Highway receives its UK premiere in London on 4 April. The new production by Diane Paulus features soprano Valérie MacCarthy, baritone Quirijn de Lang and vocalist David Moss, with video designs by Philip Bussmann and musical forces conducted by Baldur Brönnimann.



The staging launches a collaboration between English National Opera and the Young Vic Theatre.ENO's season sponsor Sky Arts has selected this production for its annual Focus documentary to be telecast during the performance run. In addition a weekly production video diary will be viewable on ENO's interactive website from 7 March.

View the Trailer and Video Diary for the ENO production.

Olga Neuwirth (b.1968) has established herself as the leading Austrian composer of her generation and is a driving force in contemporary music internationally. Her musical language can be perceived as a disturbed search for orientation in a labyrinth of possible meanings, making her the ideal artist to tackle a project based on David Lynch's film Lost Highway, with its highly original use of colliding narratives defying conventional reality. Neuwirth has described Lynch's film as a "vortex from which nobody can escape... like a world between Kafka, The Wizard of Oz and Francis Bacon!"

Neuwirth adapted the film screenplay by David Lynch and Barry Gifford into a libretto with her frequent theatrical collaborator, the Nobel prize-winning playwright and novelist Elfriede Jelinek. Aware that it would be futile to add to the visual perfection of the film, Neuwirth and Jelinek suggest instead that the video element should capture "one part of the whole as a computer construct" as if the original cinematic images are alienated into screen stills.

Synopsis
Saxophonist Fred Madison becomes increasingly alienated from his own existence. Doubts about his wife's fidelity, about himself, and ultimately about their own true identity lead increasingly to obsessions and to a continuous loss of reality. Ominous videotapes and sinister figures appear and evoke the growing feeling of a horror scenario. Video and reality also intermingle when, finally, Fred, to his own surprise and fright, finds himself with bloody hands in front of his wife's dead body. He is arrested and sentenced for murder. In the death cell a mysterious transformation takes place: Fred changes into a completely different person, the car mechanic Pete Dayton. The second part of this nightmare starts, with augmented speed, but is no less terrifying: like a perpetual whirl, from which no one can escape...

Following its premiere at the Styrian Autumn festival in Graz, Austria in 2003, Neuwirth's Lost Highway has received staged productions in Switzerland and the USA. The opera can be heard on the award-winning recording by Klangforum Wien on the Kairos label (KAI 0012542).

Listen to a Soundclip from the Lost Highway recording.

Olga Neuwirth was born in Graz, Austria in 1968, learning the trumpet from the age of seven. She studied composition with Erich Urbanner in Vienna, graduating with a thesis on music in a film by Resnais, and travelled for further studies to San Francisco where she met Adriana Hölszky, Tristan Murail and Luigi Nono who were to become important influences on her own music. Her career took off in 1998 following a pair of concerts in the 'Next Generation' series at the Salzburg Festival.

Neuwirth's stage and audio-visual works have included the opera Bählamms Fest (1997-98), The Long Rain (2000) based on Michael Kreihsl's film adaptation of Ray Bradbury's short story, and "…ce qui arrive…" (2003-04) based on texts by Paul Auster. Works with orchestra include Clinamen/Nodus (1999) written for Pierre Boulez and the London Symphony Orchestra, locus…doublure…solus (2001) for piano and orchestra and the trumpet concerto "…miramondo multiplo…" (2006) composed for Håkan Hardenberger.
> Further information on Work: Lost Highway
Photo: Priska Ketterer

Boosey & Hawkes Composer News