Offenbach's King Carrot seizes the throne in Lyon
(November 2015)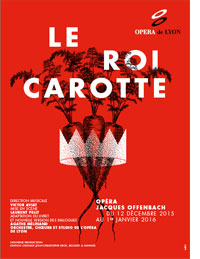 Jacques Offenbach's flamboyant satire King Carrot returns to the stage at Lyon Opera in Jean-Christophe Keck's new edition.
The latest major revival thanks to the Offenbach Edition Keck is a new staging of the composer's Le Roi Carotte (King Carrot) at Lyon Opera with nine performances between 12 December and New Year's Day. The production is in a new critical edition by Jean-Christophe Keck, recreating Offenbach's 'opéra-bouffe-féerie' three act version of 1872 which reduces the original extravagant six hour spectacle to three and a half hours, with new versions of the dialogues and adaptation of the libretto for Lyon by Agathe Mélinand.

Following his success with Offenbach classics such as Orpheus in the Underworld, La Périchole, La Vie parisienne and La Grande-Duchesse de Gérolstein, director Laurent Pelly turns his imaginative flair to Offenbach's spectacular tale, with its dizzying switches of scene from royal court to witch's garret, via Pompeii to a land of insects, and back for a revolution to overthrow the vegetable usurper. The vocal cast includes Yann Beuron, Julie Boulianne, Christophe Mortagne and Chloé Briot together with conductor Victor Aviat.

> Visit the Lyon Opera website

The origins of Le Roi Carotte lay in a story by ETA Hoffmann which Offenbach and his librettist Victorie Sardou (the author of Tosca) transformed into a grand satirical spectacle around the time of the Franco-Prussian War. Their original plan in 1869 to lampoon the Imperial regime needed some readjustment following France's defeat, with the final work moving to a fantasy kingdom and attacking not only Bonapartists but also monarchists and republicans. It succeeded in bringing laughter back to Paris to lift the post-war spirits and, following its premiere at the Théâtre de la Gaîté on 15 January 1872, enjoyed an extraordinary run of 195 performances. The presentation of the six hour blockbuster, with multiple sets and 40 characters, was extravagantly expensive and Offenbach prepared a simpler and shorter version later that year for London, New York and four years later in Vienna. Since 1877 Le Roi Carotte has rarely been seen on the stage, making the major new production in Lyon a historic rebirth for the work and a chance to discover Offenbach's music.

The delirious plot of Le Roi Carotte concerns the prince Fridolin who has to marry a rich widow to solve his kingdom's financial woes. His true love Rosée du Soir has been imprisoned by a witch for ten years, but manages to escape. The furious witch calls on the kingdom of vegetables to depose Fridolin, and thanks to magic spells King Carrot wins over the court which rejects Fridolin and sends him into exile. Enlisting the help of a magician, Fridolin and his loyal supporters seek a magic ring, taking them on a whirwind sequence of adventures. After tricking gladiators and senators in Roman Pompeii with a depiction of railway trains, and triumphing over the kindom of insects, Fridolin uses the ring to assist an uprising against King Carrot who has been revealed as a tyrant extorting money from the citizens. As the witch carries Carrot away the rightful king is restored with public acclamation.

Lyon Opera is presenting a series of linked Offenbach events to accompany the new staging of Le Roi Carotte. The Lyon Opera Studio stages the composer's one-act 'opérette-bouffe' Mesdames de la Halle at the Théâtre de la Croix-Rousse, with ten performances between 4 and 28 December conducted by Nicholas Jenkins and directed by Jean Lacornerie. Young singers from the Opera Studio present a pair of lunchtime concerts of Offenbach vocal highlights at the Amphi on 16 and 18 December, and a pair of Offenbach chamber programmes is given by musicians from the Lyon Opera Orchestra in the Grand Ballet Studio over the weekend of 12 and 13 December.

The Offenbach Edition Keck published by Boosey & Hawkes, which celebrated 15 years of activity last year, has provided the first quality editions of Offenbach's most familiar scores, as well as exploring his rarer works for the stage and concert hall. Recent years have seen the return of his Romantic operas Les Fées du Rhin and Fantasio to the stage, together with acclaimed first recordings, helping to change accepted views of the 'Mozart of the Champs-Elysées'.
> Further information on Work: Le Roi Carotte (OEK critical edition)

Boosey & Hawkes Composer News