Olga Neuwirth's Lost Highway: from Graz to Basel
(February 2004)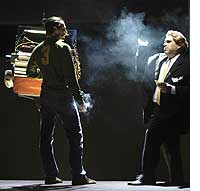 David Lynch described his cult film Lost Highway as "a psychogenic fugue" and Olga Neuwirth's highly original musical adaptation adds new layers as well as unravelling the enigmatic counterpoints. The new stagework was greeted with thunderous applause at its premiere in Graz in October, providing a highlight at the Styrian Autumn Festival. The virtuoso cast featured Constance Haumann and David Moss, and Johannes Kalitzke conducted Klangforum Wien, skilled exponents of Neuwirth's music. Joachim Schlömer's production moves to Theater Basel for its Swiss premiere on 22 May.



Lost Highway may have a reputation as a dream-like labyrinth of intercut time-frames, yet as summed up in the Financial Times it is in essence "a simple masochistic love story: Fred will do anything to win Renee's love. Through an anonymously delivered videotape, he discovers that he has killed her. Awaiting execution, he transforms himself into Pete so that he can try again. Renee's doppelganger, Alice, leads Pete to commit murder, and the cycle continues: there is no exit ramp off the lost highway."

"A maddeningly complex source is distilled and clarified, and, in the process, something entirely new emerges. Neuwirth's innovation comes with the psychological layers added by her wildly original sonic landscape… I am overwhelmed by its merits. Lost Highway entertains, challenges our perceptions of opera, and demands to be experienced."
Financial Times

"A comparison with the original is unavoidable and legitimate. The result is not a free fantasy of elements and motives from the film, yet instead, a direct and astoundingly exact adaptation… Olga Neuwirth proves again that she can create congenial as well as complex emotional music using both computerised techniques and traditional orchestral sonorities."
Tagesanzeiger Zürich

"When [the main character] Fred, plagued with furious headaches, embarks on a mutation in his prison cell and transforms into Pete, bodily language and electronically estranged language reach an intense symbiosis that allows music theatre to find its justification and identity… The musical narrative develops incredibly rich colours around a disconcerting basic mood, a low drone, that furthermore reminds us of the film… an ambiguous world into which jazz elements and even sparkling disco-riffs are fused in stylised fashion. Neuwirth puts here trust in overlaid material, multiple strata, nervous agitations – reinforced through tape recordings and computer-aided distortions of sound and voice."
Der Standard

"Olga Neuwirth is one of the beacons of the avant-garde, continuing to take a stand against the current stultification of music… Her telling of Lynch's story is richer in nuances and decidely more optimistic… a score worked through in masterly fashion."
Suddeutsche Zeitung

Neuwirth's locus…doublure…solus is travelling the world this year in its twin versions with piano and either orchestra or ensemble. Following performances in Austria, Belgium, Germany, Switzerland and the Czech Republic, the work crossed the Atlantic in January for a Cleveland Orchestra concert conducted by Franz Welser-Möst and was heard at a Neuwirth portrait concert by Ensemble Sospeso in New York. European festival appearances include its Finnish premiere on 1 March at Musica Nova from Avanti, and a performance within a major Neuwirth feature at Musica Strasbourg in October, also including the unveiling of a new Lost Highway Suite. The Dutch premiere of locus…doublure…solus takes place at the Concertgebouw in Amsterdam in December within the ZaterdagMatinee series.
> Further information on Work: Lost Highway
Photo: Premiere of Lost Highway at Graz Opera (Peter Manninger)

Boosey & Hawkes Composer News