A Midsummer Night's Dream
op. 64
(1960)
Opera in three acts
Duration: 144'
Music Text
Libretto adapted from Shakespeare by Benjamin Britten and Peter Pears (E,Cz,F,G,H,I,P,Sc,Sw)
Scoring
colS,S,M,A,CT/A,3T,2Bar,BBar,3B,acrobat speaking role;
children's roles: 4Tr,chorus
2(=picc).1(=corA).2.1-2.0.Dtpt.1.0-perc(2):tgl/cyms/tamb/gong/2wdbl/
vib/glsp/xyl/tamburo/SD/TD/BD/timp/2bells-2harps-hpd(=cel)-
strings (min 4.2.2.2.2)-Stage band:sopranino recorders/cyms/2wdbl
Abbreviations (PDF)
Opera
For full details on this stagework, including synopsis and roles, please visit our
Opera
section.
Publisher
Boosey & Hawkes
Territory
This work is available from Boosey & Hawkes for the world.
Availability
World Premiere
6/11/1960
Jubilee Hall, Aldeburgh
John Cranko, director / Snape Maltings / Benjamin Britten
Repertoire Note
In August 1959, Britten decided to compose a full-evening opera for the reopening of the refurbished Jubilee Hall in Aldeburgh in June 1960. As this left no time for a libretto to be prepared anew, he chose to adapt with Peter Pears Shakespeare's A Midsummer Night's Dream, though as he admitted at the time, he had always admired the original play and was excited by the various levels of action between the different groups of characters. As with The Turn of the Screw, these groups are characterised by strongly differentiated colours: the bright, percussive sounds of harps, keyboards and percussion for the fairy world, warm strings and wind for the the pairs of lovers, and lower woodwind and brass for the mechanicals. The opera is completely faithful to the spirit of the original and must be counted as one of the most successful operatic adaptations of a Shakespeare play. It is possibly the most beguiling and enchanting of all Britten's operas, a work with a spellbinding atmosphere that inhabits a truly unique dreamlike world.
Reproduced by kind permission of the Britten-Pears Library
Subjects
Recommended Recording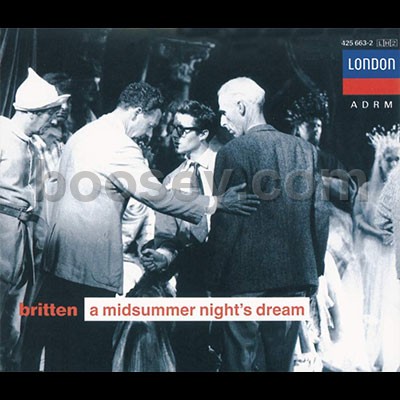 Brian Asawa/Sylvia McNair/John Mark Ainsley/Paul Whelan/Janice Watson/Robert Lloyd/Gwynne Howell/Ian Bostridge/London Symphony Orchestra/New London Children's Choir/Colin Davis
Philips 4541222
Click here to purchase this CD set from Amazon
Alfred Deller/Elizabeth Harwood/Peter Pears/Thomas Hemsley/Josephine Veasey/Heather Harper/John Shirley-Quirk/Helen Watts/Owen Brannigan/Robert Tear/London Symphony Orchestra/Benjamin Britten
Decca 4256632
Click here to purchase this CD set from Amazon
Links