String Quartet No.1
(1952)
for string quartet
Duration: 16'
Publisher
Boosey & Hawkes
Territory
This work is available from Boosey & Hawkes for the world.
Composer's Notes
The String Quartet No.1 was completed in 1952 and given its premiere in Los Angeles in 1953.The piece received the first Fromm Foundation Award, and in 1954 was given its New York premiere by the legendary Budapest String Quartet.

Writing of the performance, the music critic of the New Yorker Magazine Winthrop Sargeant remarked "Mr. Lees' quartet proved to be a very well-knit affair, quite fresh and original in style, and beautifully written for the instrument. I liked particularly its slow movement, which seemed to me one of the most distinguished things of its sort by a contemporary composer that I had heard in some time." In 1955 the work was played by the Juilliard Quartet in Tanglewood and subsequently recorded for Epic/Columbia.

The quartet is laid out in three movements - Moderato, Adagietto, and Allegro vivo. The first movement consists of two distinct subjects, the first brisk and energetic and the second more lyrical, both receiving formal developmental treatment.

The second movement also has two distinct subjects, opening with a cantabile and moving steadily to the second Poco meno section. The movement as a whole is quite transparent and uncomplicated in its structure, ending quietly and calmly.

The third movement is basically a rondo, opening with an energetic first subject which undergoes a slight development and enters a transition leading to a second subject marked cantabile.

This is expanded somewhat and leads to a transition back to the first subject. A development occurs followed by a brief transition to a third subject marked espressivo. All subjects now undergo some development, a transition leads to the re-statement of the first subject and a spirited coda brings the movement to
a close.
Recommended Recording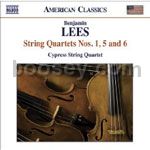 Cypress String Quartet
Cecily Ward, violin I / Tom Stone, violin II /
Ethan Filner, viola / Jennifer Kloetzel, cello
Naxos 8.559628