Capriccio for piano
op. 11
(1927)
for piano solo
Duration: 4'
Publisher
Boosey & Hawkes
Territory
This work is available from Boosey & Hawkes for the world.
World Premiere
10/27/1927
Vienna
Zdenka Ticharich, piano /

Repertoire Note
Goldschmidt's piano works are relatively few in number, but those that exist are highly characteristic and demonstrate a highly personal yet idiomatic approach to the instrument. The Capriccio was written for a fellow student in Schreker's class, Zdenka von Ticharich, and is almost a resumé in miniature of Goldschmidt's early style, reflecting the same spirit that influenced composers such as Prokofieff and Shostakovich, Hindemith and Weill. Adventurous pianists may also wish to explore the larger-scale Sonata of 1926 and the Variations on a Palestine Shepherd's Song of 1932.
Recommended Recording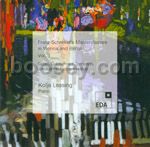 Kolja Lessing
Edition Abseits eda 24 © 2006