for clarinet and orchestra
Duration: 18'
Scoring
2.2.3.2-4.2.3.1-timp.perc(3):BD/vibraslap/5tpl.bl/slapstick/chinese cym/police whistle; high bongo/castanets/2 Chinese opera gongs/2wdbls/lg button gong; DS/ratchet/guiro/claves/lg tam-t/susp.cym/fire bell-harp-strings
Abbreviations (PDF)
Publisher
Boosey & Hawkes (Hendon Music)
Territory
This work is available from Boosey & Hawkes for the world.
Availability
World Premiere
5/17/2001
Orchestra Hall at Symphony Center, Chicago, IL
Larry Combs, clarinet / Chicago Symphony Orchestra / Christoph Eschenbach
Composer's Notes
I completed my Clarinet Concerto in Pittsford, New York on December 11, 2000. Commissioned for the Chicago Symphony Orchestra and its principal clarinetist Larry Combs and funded by the Institute for American Music, it is a work that has taken me longer to compose than has any other score of mine to date.

In the piece that immediately preceded it, Rapture, I had written music that attempted to project a sense of spiritual ecstasy, and the harmonic language of this work is almost entirely tonal. As a result, I felt the need in the Clarinet Concerto to move in a different direction—I have never felt the attraction of repeating myself endlessly and formulaically and like to try to "reinvent" myself from time to time.

My first decision was to make the music more chromatic and "prickly" than I had in Rapture and other recent compositions and on that basis elected to cast the piece as a comparatively brief (nineteen minute) one. Having already composed concerti in two, three, four, and five movements, I also decided to try my hand at realizing a one-movement form.

My final act of "reinvention" was, for the first time since my early undergraduate student days, to employ elements of randomness and indeterminacy in the composing of the work. Interjected in my concerto at three points are short three-movement "microconcerti," their point of interpolation determined by random processes. These microconcerti have a more discernibly "classical" cast to them, and they increasingly have recourse to tonality; each is also approximately half the length of its predecessor.

Beyond the surprises provided by the unexpected infusions of the microconcerto passages, I wanted the entire score to have a sense of unpredictability. Moods change rapidly and usually without preparation, and the demands placed upon the soloist require almost heroic efforts on his part. Though there are spells of lyrical playing, much more time is spent with the clarinetist demonstrating his dexterity and his instrument's agility.

The concerto is dedicated to my dear friend and colleague, Augusta Read Thomas.

— Christopher Rouse

Reproduction Rights:
This program note may be reproduced free of charge in concert programs with a credit to the composer.
Recommended Recording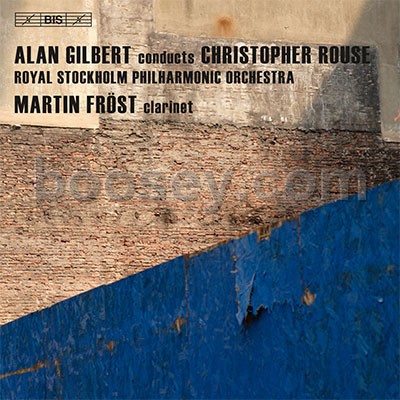 Martin Fröst/Royal Stockholm Philharmonic Orchestra/
Alan Gilbert
BIS-1386 CD
Buy this CD from Amazon
Links