for SATB chorus and orchestra
Duration: 27'
Music Text
L, Sw, F, S, R, Cz, G, I
Scoring
2(II=picc).2.2.2-4.3.3.1-timp.perc(4):glsp/2tamb/SD/tgl/2pairs cyms/
ruten/sm cyms/BD/chimes/sleighbells/maracas/guiro-harp-strings
Abbreviations (PDF)
Publisher
Boosey & Hawkes (Hendon Music)
Territory
This work is available from Boosey & Hawkes for the world.
Availability
Composer's Notes
Two paths led to the composition of Karolju. The first was the great body of Christmas carols written over the centuries, a collection I value as highly for its spiritual meaning as for its glorious music. The second was Carl Orff's Carmina Burana, which made an unforgettable impression upon me when I first heard it in March of 1963.
In the early 1980s, I conceived of a plan to compose a collection of Christmas carols couched in an overall form similar to that of Carmina Burana, but it was not until 1989, when the work was commissioned by the Baltimore Symphony Orchestra, that I was able to begin serious work on it, though I had composed several of the carols in my mind over the preceding years.
As I wished to compose the music first, the problem of texts presented itself. Finding appropriate existing texts to fit already composed music would have been virtually impossible, and as I did not trust my own ability to devise a poetically satisfying text, I decided to compose my own texts in a variety of languages (Latin, Swedish, French, Spanish, Russian, Czech, German, and Italian) which, although making reference to words and phrases appropriate to the Christmas season, would not be intelligibly translatable as complete entities. It was rather my intent to match the sound of the language to the musical style of the carol to which it was applied. I resultantly selected words often more for the quality of their sound and the extent to which such sound typified the language of their origin than for their cognitive "meaning" per se.
I also elected to compose music which was direct and simple in its tonal orientation, music which would not seem out of place in a medley of traditional Christmas carols. Those who know other of my works may be surprised—some even distressed by Karolju. While I can assert with assurance that this score does not represent a wholesale "change of direction" for me and thus constitutes an isolated example among my compositions, Karolju is nevertheless a piece which I "mean" with the most profound sincerity, one which I hope will help instill in listeners the same special joy which I feel for the season it celebrates.
It has been my decision to eschew complexity or over-subtlety of utterance, preferring instead to compose music as straightforward in terms of melody, harmony, rhythm, and orchestration. Except for a paraphrase of the coda to the "O Fortuna" movements of Carmina Burana (which I have used in Nos. 1 and 10 of Karolju and which constitutes a small homage to Orff) and for a four-measure phrase in No. 3 which I borrowed from The Nutcracker a phrase which Tchaikovsky himself had cribbed from an eighteenth-century minuet all of the music in Karolju is by me. In an attempt to provide a degree of unity for the work, certain melodic patterns and chord progressions have been employed in a number of the carols.
Karolju was completed in Fairport, New York on November 13, 1990 and is dedicated to my daughter Alexandra, who was to celebrate her first Christmas that year. It was commissioned with the generous assistance of the Barlow Foundation for Music Composition at Brigham Young University, and I am also most grateful to the Guggenheim Foundation for providing me with a Fellowship which allowed me time to compose the work unencumbered by other duties. With a duration of approximately twenty-six minutes, it is scored for large SATB chorus and an orchestra consisting of 2 flutes (2nd doubling piccolo), 2 oboes, 2 clarinets, 2 bassoons, 4 horns, 3 trumpets, 3 trombones, tuba, timpani, percussion (4 players), harp, and strings.
— Christopher Rouse
Reproduction Rights:
This program note may be reproduced free of charge in concert programs with a credit to the composer.
Subjects
Recommended Recording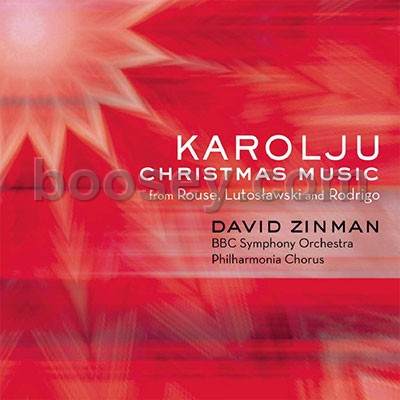 BBC Symphony Orchestra / Philharmonia Chorus / David Zinman
Sony BMG 88697115612
Buy the CD from Amazon
Links