for string quartet and electronics
Duration: 31'
Publisher
Boosey & Hawkes (Hendon Music)
Territory
This work is available from Boosey & Hawkes for the world.
Availability
Composer's Notes
AGENCY is a work about the presence or absence of choice in society, explored through the tension between faith-based indigenous cultures and modern information-based spy agencies. Specifically focusing on the tension between the Aboriginal holy site Uluru in central Australia (also known by the colonial name Ayers Rock) and Pine Gap, a massive American spy center of top secret function, which sits just five hours to the north, AGENCY seeks to ask: to what degree are we autonomous agents in the world, and to what degree are we acted upon by outside, unknown, and potentially more powerful agents.
Both Uluru and Pine Gap are shrouded in great mystery, with a fantastical mix of fact, fiction and fantasy surrounding them. Likewise, this work is riddled with clues and secret messages—including nine labeled ciphers, and many others not indicated—which must either be found or decoded in order to access the meaning of the piece. In some cases, the answers to these riddles must be found in the score itself—hidden via substitution ciphers, redactions, translation from various spy codes, etc.—while in other cases the clues only exist in the electronic backing track and must be detected through audio manipulation—time expansion, reversal, filtering, etc. These hidden messages together include ideological texts, map coordinates, lists of "guilty parties" to international spy conspiracies, and philosophical, religious and poetic quotations. Other messages are audible, but unclear: often abstracted to obscure meaning, while also amplifying their poetry. These messages together express the core meaning of AGENCY, but must first be deciphered before they can be understood.
There are two master scores, each of which serves as a key for deciphering the codes found in the work: one is held in the archives of the Kronos Quartet, and the other is held in the composer's archives. There is no other key for deciphering the messages embedded within the work.
Lasting 31 minutes, AGENCY was commissioned by the Kronos Quartet and the University Musical Society and premiered on January 18th, 2014 at the Power Center, in Ann Arbor, MI.
David T. Little
November 10, 2013
Subjects
Recommended Recording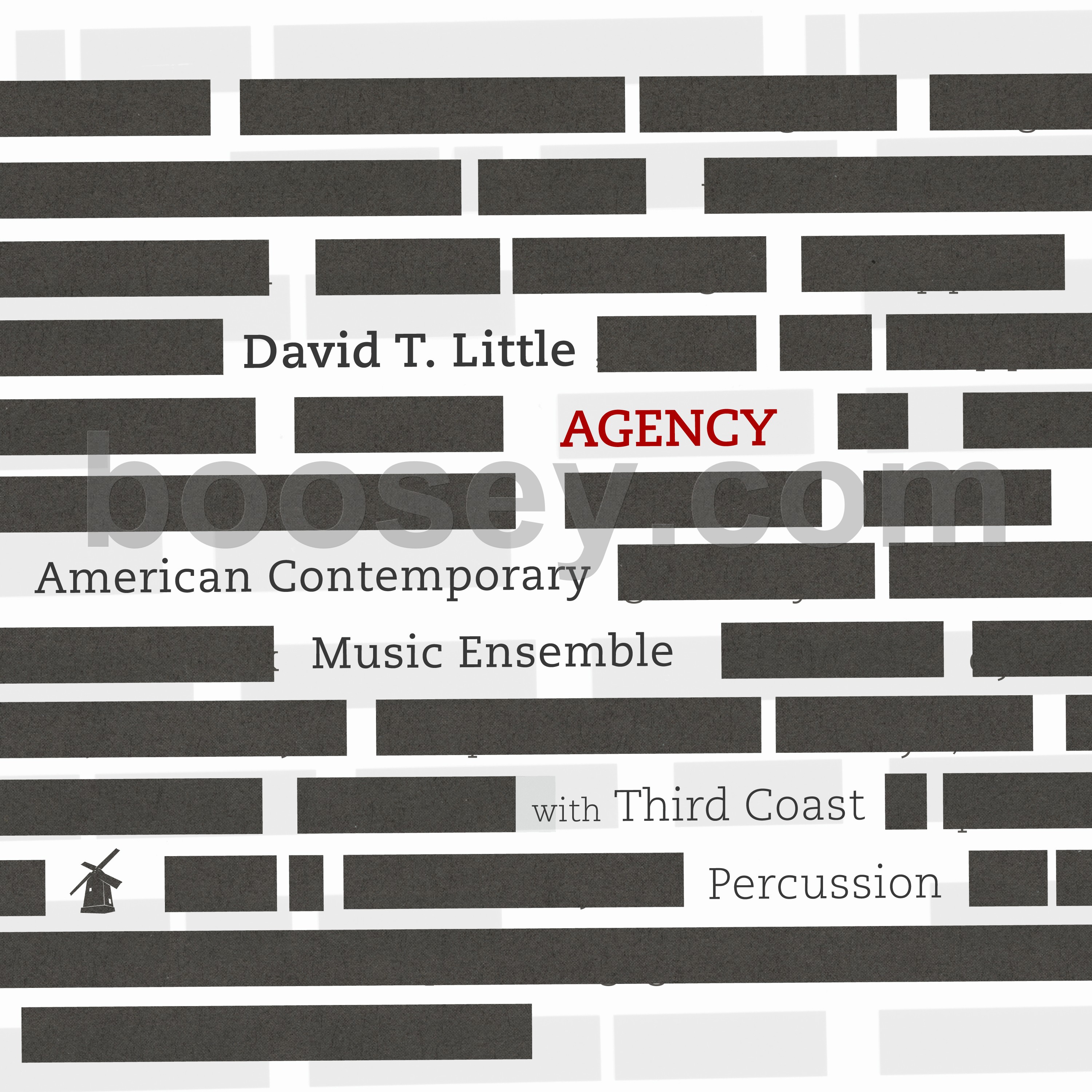 American Contemporary Music Ensemble
Third Coast Percussion
New Amsterdam Records
Purchase the album from Amazon.
Links