Child Alice [complete work]
(1977-81)
for soprano and orchestra
Duration: 135'
Music Text
"Alice's Adventures in Wonderland" and "Through the Looking Glass" by Lewis Carroll
Scoring
3(II,III=picc).3(III=corA).3(III=Ebcl).3(III=dbn)-4.4.3.1-timp.perc(5)-2 harps-cel-strings
Abbreviations (PDF)
Publisher
Boosey & Hawkes
Territory
This work is available from Boosey & Hawkes for the world.
Availability
World Premiere
4/27/1986
Carnegie Hall, New York, NY
Tracy Dahl, Victoria Livengood, Dawn Upshaw, soprano / American Symphony Orchestra / John Mauceri
Composer's Notes
Child Alice has everything to do with Alice's Adventures in Wonderland ? and nothing. The child, of course, was Alice Pleasance Liddell, who together with her sisters Lorina Charlotte and Edith enjoyed numerous rowing expeditions up the Thames with Lewis Carroll. It was during these outings that the Rev. Dodgson ('Lewis Carroll' was a pen name) first improvised the fantastical tales, some of which were later written down (mostly at the insistence of Alice Pleasance) and ultimately published as the Alice books we know today.
Child Alice began as simple settings of the preface poems of these books, but as the piece grew longer and longer, it became for me a kind of evocation of one of those glorious days. Beneath a brilliant sky, upon a river (or perhaps resting on the bank), Lewis Carroll held these three charming children in blissful thrall with his inspired, eccentric, and utterly unique imaginings and stories.
At these moments, Carroll's own feelings must have been vastly more complex than those of the children and my evocation of that day tries to capture the varied sentiments and feelings of both child and adult.
The entire text for Part I is the preface poem 'Child of the Pure Unclouded Brow' (from Through the Looking Glass and What Alice Found There) and the text of Part II is the preface poem 'All in the Golden Afternoon' (from Alice's Adventures in Wonderland) ? both are sung by the soprano in two contrasting settings. These are separated by orchestral movements (Marcia, Fuga, Fantasia) describing an Alice text. They are, as it were, chapters from Alice's Adventures in Wonderland that got away. In this sense, then, the piece has nothing literally to do with the book ? only with the circumstances and feelings I imagine were involved in its creation."
– DAVID DEL TREDICI
Subjects
Recommended Recording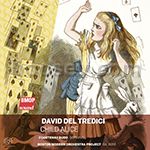 Boston Modern Orchestra Project / Gil Rose
BMOP/sound 1056
Links