Tolomeo e Alessandro
(1711)
Dramma pastorale in three acts, edited by Alan Curtis
Duration: 147'
Music Text
Libretto by Carlo Sigismondo Capece (I)
Scoring
2S,A,3CT(S,2M); mixed chorus; orchestra
Abbreviations (PDF)
Publisher
Boosey & Hawkes / Bote & Bock
Territory
This work is available from Boosey & Hawkes for the world.
Opera
For full details on this stagework, including synopsis and roles, please visit our Opera section.
Repertoire Note
Universally admired for his keyboard music, the vocal music of Domenico Scarlatti has until very recently been largely ignored. For many years, the opera Tolomeo e Alessandro was known only from a manuscript of Act I in a private collection in Milan. Recently the entire opera turned up in England and surprisingly revealed that Domenico was after all a very fine dramatic composer, perhaps even more appealingly so than his father Alessandro. It is tempting to think that Handel, whose Tolomeo uses the same libretto, may have known this setting by his old friend, 'Mimmo', and tried to outdo him in setting the same texts to music. He was not always successful.
Subjects
Recommended Recording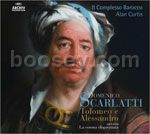 Hallenberg / Ek / Invernizzi / Baka / Milanesi / Nesi / Il Complesso Barocco / Alan Curtis
Universal Music Spain / Fundación Caja Madrid (2010)