Towards the Horizon
(2008-09)
concerto for cello and orchestra
Duration: 20'
Scoring
2.2.2.2-4.2.0.0-timp.perc:vib/4tom-t/SD-strings
Abbreviations (PDF)
Publisher
Boosey & Hawkes
Territory
This work is available from Boosey & Hawkes for the world.
Availability
World Premiere
9/30/2010
Orchestra Hall, Minneapolis, MN
Arek Tesarczyk, cello / Minnesota Orchestra / Osmo Vänskä
Composer's Notes
This one movement concerto is written for the Minnesota Orchestra and its Music Director Osmo Vänskä. It is dedicated to Truls Mørk. It is my second concerto for cello and orchestra.

After an Introduction the cello presents the main theme, a cantilene, where woodwind solos and strings also join in. This leads to a Furioso passage, a turning point, after which an extensive development section begins. There are dialogues between the soloist and instrument groups, alternating with lyrical passages. A fast Vigoroso texture is suddenly stopped, the violins keep a vibrating static harmony as a background for the cello, who sings in the highest possible range a line which brought to my mind the view of a far horizon. The energic Vigoroso and the "Horizon" alternate, until only the Horizon is left.

Of my twelve concertos the first was for cello, and now again a cello concerto may end the series.

Einojuhani Rautavaara

Reproduction Rights
This programme note can be reproduced free of charge in concert programmes with a credit to the composer.

Subjects
Recommended Recording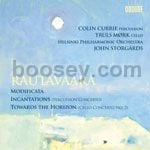 Links