for piano and orchestra
Duration: 15'
Scoring
solo pft-2(II=picc).3(II=corA).2(II=bcl).cbcl(=bcl).2.dbn-4.3(=Bb trpt).3.1-perc(4)xyl/mar/4bongos/low cym/high SD/cowbell/lg almglock/tam-t;4tmpl.bl/high cym/med SD/med.tom-t/slapstick/BD;4wdbl/med.cym/low SD/low tom-t/guiro/wood drum/claves;2metal pipes.2timbales/wind gong/nipple gong/maraca/sizzle cym-strings
Abbreviations (PDF)
Publisher
Boosey & Hawkes (Hendon Music)
Territory
This work is available from Boosey & Hawkes for the world.
Availability
World Premiere
12/4/2008
Symphony Hall, Boston, MA
Daniel Barenboim, piano / Boston Symphony Orchestra / James Levine
Composer's Notes
When both Daniel Barenboim and James Levine suggested a work for both of them to perform on my 100th birthday, delighted and also hoping that I could write something worthy of these two great performers, I soon realized that it could not be a regular piano concerto because it would not give equal prevalence to both performers. So I decided to write a work that had one long line, mostly for the strings, interrupted by the piano which also had its developing part interrupted by the orchestra. Each intervening in the other's part, sometimes humorously.

The work was completed on April 16, 2007.

— Elliott Carter
October 27, 2008.

Reproduction Rights:
This program note may be reproduced free of charge in concert programs with a credit to the composer.
Press Quotes
"The banter that 'Interventions' explores is expressed in the opening measures through a musical joke. The orchestra sounds a collective sustained A, the pitch to which the instruments generally tune. But the uppity piano thumps out an intrusive B flat, a half-step up, as if to say, 'Take that.'"
— The New York Times

"…full of surprisingly lyrical string writing…with frequent interruptions from the piano, which then holds court with pointy, eruptive figuration or big, iridescent chords. Two independent trios help negotiate between orchestra and soloist. The final flourish is uncharacteristically brash - and life-affirming."
— The Boston Globe

"…a feisty score. …In 'Interventions,' whimsy meets wistfulness. The violins have it in mind to sing a long, lovely wide-ranging line for the whole of the score's 17 minutes. They don't get to, however, no matter how much support they get from the lower strings, which add harmonic and contrapuntal richness."
— Los Angeles Times
Recommended Recording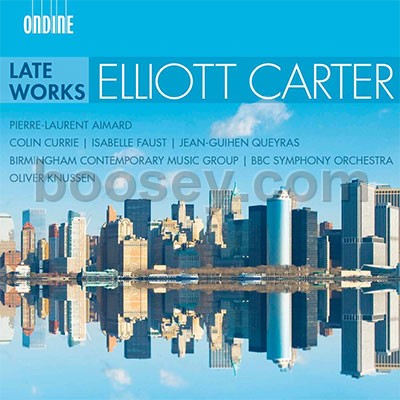 Pierre-Laurent Aimard, piano
BBC Symphony Orchestra / Oliver Knussen, conductor
Ondine Records ODE 1296-2
Links