for ensemble
Duration: 10'
Scoring
2(I=picc2,afl,II=picc1).1.corA.2(I=Eb cl,II=bcl,dbcl).2(II=dbn)-2.2.2.0-
perc(3):4bongos/4wdbls/BD/gong/sm.susp.cym/lg.snare dr/xylorimba;4tom-t/tam-t/stones/sm.snare dr/2log drs/sm.tgl/lg.susp.cym/vib/glsp;4tpl.bls/sm.cowbell/almglocke/med.SD/hammer/guiro/claves/med.susp.cym-pft-harp-strings(2.1.2.2.1)
Abbreviations (PDF)
Publisher
Boosey & Hawkes (Hendon Music)
Territory
This work is available from Boosey & Hawkes for the world.
Availability
World Premiere
2/15/2005
Cité de la Musique, Paris
Ensemble intercontemporain / Pierre Boulez
Programme Note
Conceived as an eightieth-birthday present for the composer's longstanding friend and supporter Pierre Boulez, this colorful and often humorous piece is a swirl of reflections on six notes that spell out the dedicatee's surname. The score is also a homage to the Ensemble InterContemporain, which was to give the first performance (as also of the composer's Penthode and his concertos for oboe and clarinet). Accordingly, the music is a sparkling sequence of virtuoso solos and duets, including a comic turn for contrabass clarinet in the extreme low register, bright discourses for flutes and trumpets, and a cello thrust in which, Carter has observed, "the cello plays a wrong note, B natural, which the orchestra doesn't like, so then it plays the right note, which is B flat."


- Programme note by Paul Griffiths



Reproduction Rights:
This programme note can be reproduced free of charge in concert programmes with a credit to the author.
Press Quotes
"With multiple smiles and twinkles in the eye towards the hero of the day, Réflexions does not fall into the mould of the occasional piece and manifests the stunning vitality of a musician who is nearing his centenary. Boulez was thrilled. The audience was, too, during its repeated ovation of Carter."
Le Monde
Subjects
Recommended Recording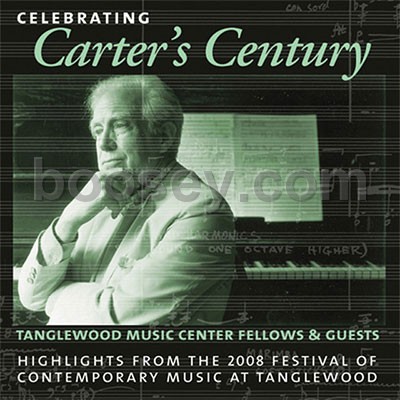 Tanglewood Music Center Fellows
BSO Classics
Links