for solo violin
Duration: 5'
Publisher
Boosey & Hawkes (Hendon Music)
Territory
This work is available from Boosey & Hawkes for the world.
World Premiere
3/28/2001
Merkin Hall, New York, New York
Robert Mann , violin
Composer's Notes
Rhapsodic Musings is a present to Robert Mann on his 80th birthday. It is a small tribute to his extraordinary, devoted advocacy of contemporary music. As is well-known, with the other members of the Juilliard Quartet he gave such pioneering and commanding performances of quartets by Bartók, Schoenberg, and many others, including my own, that many of these works became part of the performers' repertory. His teaching and other activities brought these scores to the attention of students.
Using his initials R. M. in the title of this short violin solo and in its main motive – re, mi (D, E) – this piece tries to suggest some of his remarkable human and artistic qualities. It was composed in June, 2000, in Southbury, Connecticut.
Elliott Carter
Available FOR SALE as part of 4 Lauds.
Reproduction Rights
This programme note can be reproduced free of charge in concert programmes with a credit to the composer
Recommended Recording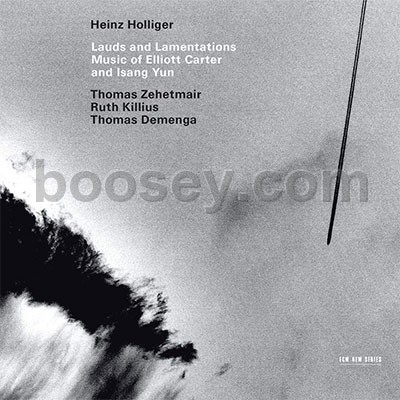 Lauds and Lamentations: Music of Elliott Carter and Isang Yun
Thomas Zehetmair
ECM New Series 1848