for orchestra
Duration: 10'
Scoring
picc.2(=picc).2.corA.2 (I=Ebcl,II=bcl).dbcl.2.dbn-4.3.3.1-timp.perc(2):xyl/tmpl. blks/bongos/2susp.cyms/cowbell/low conga drums/2 tom-t/BD;claves/4wdbl/2SD/2 susp.cyms/log dr/2 low tom-t-pft-strings
Abbreviations (PDF)
Publisher
Boosey & Hawkes (Hendon Music)
Territory
This work is available from Boosey & Hawkes for the world.
Availability
World Premiere
10/6/2005
Symphony Center, Chicago, Illinois
Chicago Symphony Orchestra / Daniel Barenboim
Composer's Notes
Soundings celebrates the conductor/ pianist Daniel Barenboim, whose Chicago Symphony Orchestra commissioned this score which was written in New York City in 2005.


It presents a " soundings " of the conductor-pianist and of many instrumental groups or soloists within the orchestra and presents them with good - humor.


Elliott Carter


Reproduction Rights
This programme note can be reproduced free of charge in concert programmes with a credit to the composer.
Press Quotes
"Soundings packs a lot of invention into its dozen minutes. Carter celebrates the two Barenboims, giving him music to play at the piano and a lot more music to conduct, but never at the same time… In between, Carter gives us a parade of rapidly shifting orchestral ideas: horn and woodwinds chopping up a darting phrase; the subterranean rumbles of contrabass clarinet; a twittering trio of piccolos; a pensive tuba solo that's actually longer than the entire piano part. Through it all, there's Carter the high-modernist artisan, delighting in the virtuosic sinew of a great orchestra he knows well."
Chicago Tribune
Recommended Recording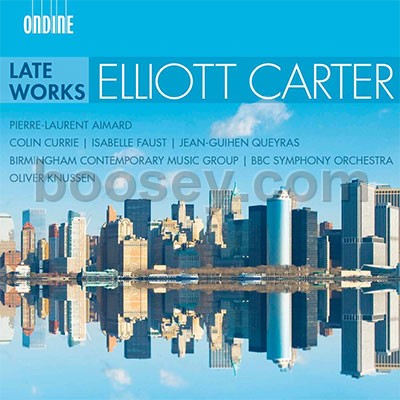 BBC Symphony Orchestra / Oliver Knussen, conductor
Ondine Records ODE 1296-2
Links