for flute, bass clarinet and harp
Duration: 2'
Publisher
Boosey & Hawkes
Territory
This work is available from Boosey & Hawkes for the world.
World Premiere
11/9/2011
Slovenska filharmonija, Marjana Kozina Hall, Ljubljana
Robert Aitken, flute / Jurij Jenko, bass clarinet / Coline-Marie Orliac, harp /

Composer's Notes
Trije glasbeniki (Three musicians) was composed as a gift to the Slovenian musicians that have organized a large festival of my music in November, 2011 in Ljubljana. It is a piece for Harp, Flute and Bass Clarinet, and is dedicated to the three musicians (Erica Goodman, harp; Robert Aitken, flute; Virgil Blackwell, bass clarinet) who will present the World Premiere at this festival.

— Elliott Carter
March 17, 2011

Reproduction Rights:
This program note may be reproduced free of charge in concert programs with a credit to the composer.

Press Quotes
"...a daringly episodic trio..."
— Anthony Tommasini, The New York Times
Recommended Recording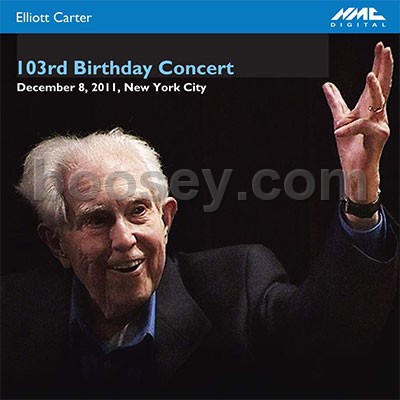 Marie Tachouet/Virgil Blackwell/Bridget Kibbey
NMC D193