for chamber orchestra
Duration: 10'
Scoring
1.1.1.1-1.1.1.1-perc(2):I=vib/gong/timp/tam-t(shared with II); II=crot/t.bells/Taiko dr/marimba/tam-t-strings(2.0.2.2.2); elec.soundtrack
Abbreviations (PDF)
Publisher
Boosey & Hawkes / Bote & Bock
Territory
This work is available from Boosey & Hawkes for the world.
World Premiere
4/7/2009
Walt Disney Concert Hall, Los Angeles, CA
Los Angeles Philharmonic / Esa-Pekka Salonen

Composer's Notes
This piece is based on the poem "Li Po" by the Mexican poet José Juan Tablada, who based this poem on the life of the Chinese poet Li Po. Tablada traveled to the Far East during the first years of the last century where he discovered the poetry of Li Po. This poem is based on Li Po's biography and on a free Spanish translation of his "Drinking alone with the moon" famous work.

"Li Po" is unique in Mexican literature for it depicts the story by drawing beautiful calligrammes with the words. The first time I saw this poem I was immediately captured by its visual presentation, but when I discovered that this nice set of calligrammes hided an even more exquisite poetry, I surrendered my self to Tablada. I recognized the power of combining the eye with the ear, semantics with phonetics, east and west, and I knew I had to compose a work based on this poem…

First, I recorded me reading the poem, once and again, until satisfied with my own interpretation. I then transcribed this recording into a musical score, writing down the notes, the rhythms and the phonetics. I also recorded each phoneme of the poem separately, and by means of a spectral analyzer, obtained the series of partial notes that constitute their acoustic spectra. Secondly, I prepared the electronic part of the work by using the separate phonemes as well as the recording of my reading. Finally, using the poem as structural basis, I composed the ensemble parts using the transcription of my reading and the analyzed spectra as raw musical material.
Press Quotes
"You could listen to this work without knowing anything of its origins and still be swept along by the wash of colors, the sputtering mechanistic energy and the riot of instrumental and amplified sounds. For a while it seemed that "Li Po" was going to be an environmental piece, with sounds coming from speakers all over the hall. But then it broke into a raw, swinging triple-meter episode and started to sound like a spectral-electronic riff on West Side Story." (Anthony Tommasini, The New York Times, 09 Apr 2009)

"Chapela's Li Po, in many ways the most interesting work, is for large ensemble and is very much all over the map. Chapela uses sophisticated computer programming of French spectral school to fool around with phonic syllables, Spanish- and Chinese-based. But the electronics are only one layer. There are all kinds of compelling instrumental effects, exciting visceral rhythms, and tons on tones sliding around." (Mark Swed, Los Angeles Times, 09 Apr 2009)

"Chapela's Li Po gets the award for most energetic [of the programme]. The work was composed through an involved process that included the composer reading a Spanish poem into a tape recorder and translating the reading's pitches and notes into a musical score. A computer program or two got involved along the way; at any rate, there was little resemblance between spoken word and the resulting piece that I could discern.
What emerged was a barrage of tightly intertwined instrumental and taped sounds, all over the place but tumbling over each other and closely related in timbre. It was difficult at times to tell where the tape sounds – wind, rain, buzz saws, frogs, whistles – stopped and in the instrumental sounds began. Ethereal and whomping episodes intervened, and then big slow waves. It was ten minutes of controlled mayhem, but that control was key – it gave the work shape and personality." (Timothy Mangan, Orange County Register, 09 Apr 2009)

"Chapela's Li Po makes virtuosic use of unconventional instrumental sounds – multiphonics, bowed percussion, glissando everywhere – and envelops them in voluptuous electronic textures. Yet the work is more than an onslaught of effects: tendrils of melody curl around the ear, harmonic colors glow eerily bright, rhythms have a folkish, danceable thrust." (Alex Ross, The New Yorker, Apr 2009)
Recommended Recording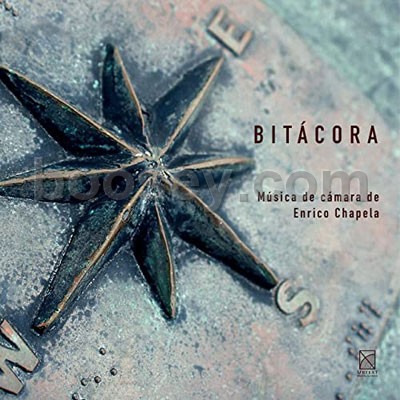 Ensamble Internacional de las Artes / Enrico Chapela
Urtext Digital Classics JBCC297