Abraham and Isaac
(1962-63)
for baritone and orchestra
Duration: 12'
Music Text
from Genesis (Heb,E)
Scoring
2.afl.1.corA.1.bcl.2-1.2.2.1-strings
Abbreviations (PDF)
Publisher
Boosey & Hawkes
Territory
This work is available from Boosey & Hawkes for the world.
World stage premiere
6/14/1999
Carre, Amsterdam
Peter Sellars, director / Nieuw Sinfonietta/Asko & Schoenberg Ensembles / Reinbert de Leeuw

Repertoire Note
Dedicated to "the people of the State of Israel," Abraham and Isaac was commissioned by the Israel Festival Committee. Stravinsky agreed to set the story in Hebrew – a language he did not know. "I began to compose Abraham and Isaac because of the attractions of the Hebrew language as sound, because of the subject, and, not least, because I wanted to leave a token of my gratitude to the people of Israel." To a considerable degree, Hebrew is what this piece is "about".
Repertoire note by Joseph Horowitz
Subjects
Recommended Recording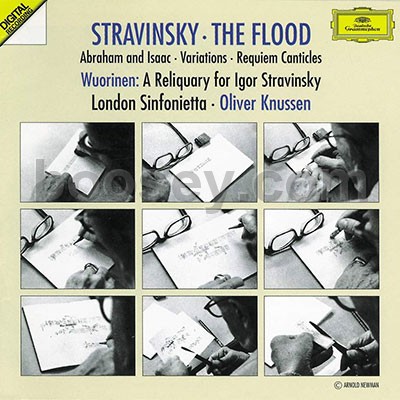 David Wilson Johnson/London Sinfonietta/Oliver Knussen
Deutsche Grammophon E4470682