Canticum Sacrum ad honorem Sancti Marci nominis
(1955)
for tenor and bass soloists, chorus, and orchestra
Duration: 17'
Scoring
1.2.corA.0.2dbn-0.4.4.0-harp-organ-strings(vla.db)
Abbreviations (PDF)
Publisher
Boosey & Hawkes
Territory
This work is available from Boosey & Hawkes for the world.
Repertoire Note
Composed for a festival of contemporary music in Venice – a city with special significance for Stravinsky – Canticum Sacrum is inscribed to Venice's patron St. Mark and designed for performance in St. Mark's Cathedral. Roman Vlad considers the Canticum "the most comprehensive and essential synthesis of elements it is possible to imagine at this particular stage in the evolution of European music . . . From the point of view of form, this work embraces features which span the entire panorama of European musical history and gathers them all into one vast omnium gatherum – from Gregorian chant to Webern's spacious intervals..."
Repertoire note by Joseph Horowitz
Commissioned by the Venice Biennale, the work was premiered in St Mark's Basilica, and the bulk of the Latin text is taken from the Vulgate version of St Mark's gospel, along with other biblical excerpts. Its carefully constructed architecture in five movements is certainly in keeping with the balance and proportions of the building for which it was written. It contains music that is, by turns, monumental, lyrical and dramatic . It also exploits the possibilities for antiphony familiar from much earlier music written for St Mark's. Its somewhat austere musical language reflects both Stravinsky's recent contact with the music of Webern and his looking back much further to reflect St Mark's Byzantine splendour.
Repertoire note by Jonathan Cross
Recommended Recording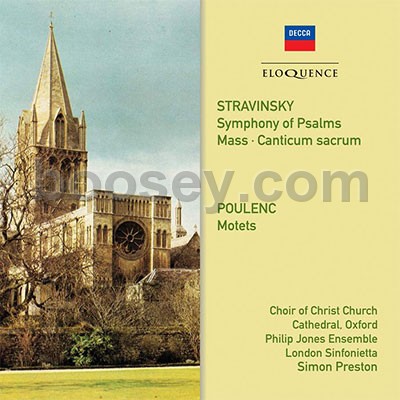 Marcus Creed/Richard Morton/
Philip Jones Brass Ensemble/London Sinfonietta/
Choir of Christ Church Cathedral Oxford/
Simon Preston
Decca ELQ4828099