for mixed chorus and double wind quintet
Duration: 20'
Scoring
0.2.corA.0.2-0.2.3.0
Abbreviations (PDF)
Publisher
Boosey & Hawkes
Territory
This work is available from Boosey & Hawkes for the world.
Availability
Repertoire Note
Among Stravinsky's religious choral works, the Mass sits in between the more robust Symphony of Psalms and the later, more esoteric serial compositions. He had come across some Mozart masses in a second-hand bookstore in Los Angeles; "as I played through these rococo-operatic sweets-of-sin, I knew I had to write a Mass of my own, but a real one." That is, he intended to compose a Roman Catholic mass for actual church use. Stravinsky also wrote: "Religious music without religion is almost always vulgar."
Repertoire note by Joseph Horowitz
The Mass was prompted by Stravinsky's discovery of some Mozart masses in a Los Angeles bookshop. It sets the Catholic Latin text and was intended for liturgical use. Though he claimed he was writing 'very cold music', its central 'Credo' ('I believe') must surely be read as the profound and personal reaffirmation of faith from an émigré. Its scoring for ten ceremonial woodwind and brass instruments recalls the Symphony of Psalms. The 'Gloria' and 'Sanctus' give cantilenas to solo voices, which sound distinctly Russian. The closing 'Agnus Dei' separates three a cappella verses with contemplative instrumental refrains, anticipating the ritual formality of his late music. The Mass is still in use liturgically today, but would also grace any concert programme of 20th-century sacred choral music.
Repertoire note by Jonathan Cross
Recommended Recording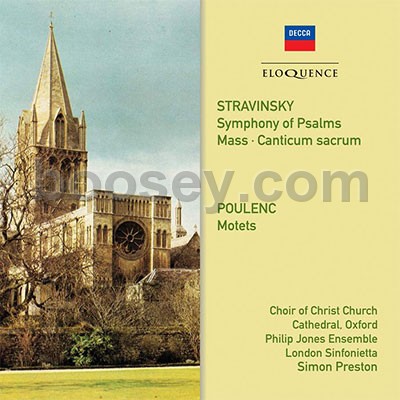 Choir of Christ Church Cathedral Oxford/
London Sinfonietta/Simon Preston
Decca ELQ4828099
Links