for alto and bass soloists, chorus, and orchestra
Duration: 15'
Music Text
from Missa pro Defunctis (L)
Scoring
3(III=picc).afl.0.0.2-4.2.3.0-timp(2).perc(2):t.bells/vib/xyl-harp-
cel-pft-strings(6.5.4.3.2)
Abbreviations (PDF)
Publisher
Boosey & Hawkes
Territory
This work is available from Boosey & Hawkes for the world.
Availability
Repertoire Note
This was the music performed at Stravinsky's funeral in Venice; according to his widow: "He and we knew he was writing it for himself." Stravinsky: "Most listeners seemed to find it the easiest to take home of my last-period – or last-ditch-period – music, and though I know of no universal decision as to whether it is to be thought of as compressed or merely brief, I think the opus may be safely called the first mini- or pocket-Requiem." Robert Craft described the closing Postlude as "the chord of Death, followed by silence, the tolling of bells, and again silence, all thrice repeated, then the three final chords of Death alone."
Repertoire note by Joseph Horowitz
Stravinsky's last major work was initially commissioned as an instrumental work in memory of a benefactress of Princeton University. But Stravinsky soon decided to include a chorus and soloists. His choice of fragments of the Latin requiem mass text must surely have been motivated, in part at least, by the knowledge that his own life was entering its final phase. The work has a stripped-back character but there is nothing morbid about it; rather, it is elegiac, serene, sometimes even mocking, as if the composer were thumbing his nose at death. It is scored for relatively large forces, but which are mainly used in an intimate, chamber manner. The slowly chiming sounds of the closing Postlude are both funeral bells, and also a distant memory of the church bells of Stravinsky's childhood in St Petersburg. The Canticles were first performed in 1966 at Princeton University and again on 15 April 1971 in Venice at Stravinsky's own funeral service.
Repertoire note by Jonathan Cross
Subjects
Recommended Recording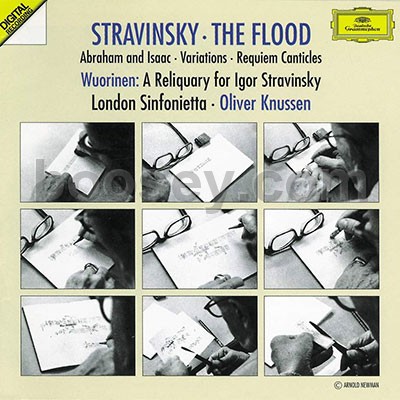 Susan Bickley, David Wilson-Johnson, London Sinfonietta, New London Chamber Choir, Oliver Knussen
Deutsche Grammophon E4470682
Links