for mixed ensemble
Duration: 11'
Scoring
0.0.1.1-1.0.0.0-pft-vln.vla.vlc
Abbreviations (PDF)
Publisher
Boosey & Hawkes
Territory
This work is available from Boosey & Hawkes for the world.
Availability
Programme Note
In Stravinsky's next work after the Cantata he enters more directly into the sphere of Schoenberg, whose Septet-Suite he had recently encountered. It corresponds with the Schoenberg work, not only in instrumentation but also in the choice of the Baroque dance of the gigue for the last movement, and continues to engage in each of its three movements with basic aspects of the serial method. But there are also echoes of Stravinsky's earlier neoclassical practices: in the counterpoint of the first movement, in the modelling of the second movement on Bach's Passacaglia in C Minor, and in the fugal-serial treatment of the theme in the gigue. It is music of a great energy that could form a lively close to a concert of chamber music, or a programme with the Schoenberg and Stravinsky works as bookends.
Repertoire note by Jonathan Cross
Following the Cantata, with its contrapuntal interplay, the Septet abounds in imitative writing — and the mixed ensemble makes the lines easy to differentiate. The three movements are a sonata allegro, passacaglia, and gigue.
Repertoire note by Joseph Horowitz
Recommended Recording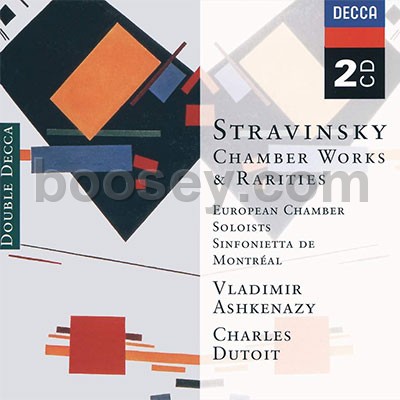 Dimitri Ashkenazy/Vladimir Ashkenazy/
Annelies Terry/Harry Vorselen/
Laurent Quenelle/Sarah Burnett/Hartmut Rohde
Decca (2CD) 4738102
Links