A musical play for solo voices, chorus, speakers and orchestra
Duration: 24'
Music Text
Text: Book of Genesis, York and Chester Miracle plays (L-E,L-F,L-G)
Scoring
T,2B,7speakers; SAT chorus
3(III=picc).afl.2.corA.2.bcl.dbcl.2.dbn-4.3.2.btrbn.1-timp.perc:
xylorimba/3tom-t/cyms/BD-harp-cel(=pft)-strings
Abbreviations (PDF)
Publisher
Boosey & Hawkes
Territory
This work is available from Boosey & Hawkes for the world.
Opera
For full details on this stagework, including synopsis and roles, please visit our Opera section.
World Premiere
6/14/1962
CBS Television Network broadcast
George Balanchine, choreographer / CBS Television Network / Robert Craft

Repertoire Note
Commissioned by CBS television, The Flood conflates the Creation with the story of Noah's ark. Stravinsky: "Why did I call my work The Flood, instead of Noah? Because Noah is mere history. As a genuine antediluvian he is a great curiosity, but a sideshow curiosity. And even as 'eternal man,' the second Adam, the – to Augustinians – Old Testament Christ image, he is less important than the Eternal Catastrophe. The Flood is also The Bomb." God, impressively strange, is sung by two basses, Lucifer by a tenor; there is also a Caller (for the animal parade) and a Narrator. Stravinsky called the "musical speed" of The Flood "cinematographic;" writing for television, he eagerly dispensed with "the afflatus of overtures, connecting episodes, curtain music."
Repertoire note by Joseph Horowitz
The Flood was commissioned as a 'musical play' for television, with speaking, singing and instrumental parts. His assistant Robert Craft devised the text from the book of Genesis plus the York and Chester miracle plays. Stravinsky was very taken with the idea of working in the relatively new medium of television, and it inspired from him an intricate serial structure. It did not come across well on the television, however, not helped by being bookended by shampoo commercials, and it has had precious few stage productions. It is therefore ripe for a serious modern production, perhaps paired with a church parable by Britten, or with other of Stravinsky's Old Testament pieces. The American director Peter Sellars has staged a collection of these sacred works under the title Biblical Pieces.
Repertoire note by Jonathan Cross
Subjects
Recommended Recording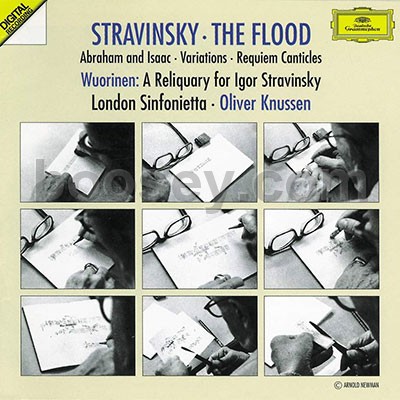 Peter Hall, David Wilson-Johnson, Stephen Richardson, Michael Berkeley, Bernard Jacobson, Lucy Shelton, London Sinfonietta, Oliver Knussen
Deutsche Grammophon E4470682