Three Japanese Lyrics
(1912-13)
for high voice and ensemble
Duration: 4'
Music Text
Yamabe no Akahito, Masazumi Miyamoto, Ki no Tsurayuki (R,F,E,G)
Scoring
2(II=picc).2(II=bcl)-pft-string quartet
Abbreviations (PDF)
Publisher
Boosey & Hawkes
Territory
This work is available from Boosey & Hawkes for the world.
Repertoire Note
Stravinsky selected the texts for these short songs from an anthology of Japanese poems in Russian translation, and each simply bears the name of its author: Akahito, Mazatsumi and Tsaraiuki. The scoring, however, comes from quite a different source, namely Schoenberg's Pierrot lunaire. Stravinsky claimed he was attempting to capture in this music 'the unique linear perspective of Japanese declamation'. But there are also echoes here of The Rite of Spring, on which he was working at the same time. Other figures influenced by Japanese culture include Debussy, Cage, Britten and Saariaho, alongside Japanese composers Takemitsu and Kondo.
Repertoire note by Jonathan Cross
In 1912 Stravinsky read an anthology of Japanese lyrics. "The impression which they made on me was exactly like that made by Japanese paintings and engravings. The graphic solution of problems of perspective and space shown by their art incited me to find something analagous in music." The resulting mini-songs set three lyrics about the coming of Spring.
Repertoire note by Joseph Horowitz
Subjects
Recommended Recording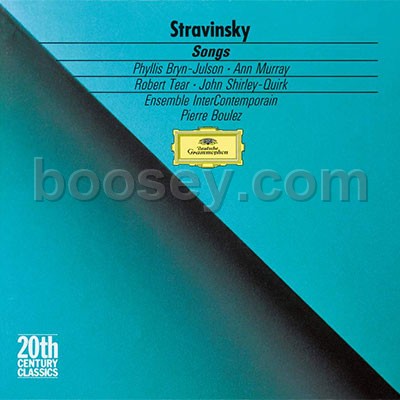 Phyllis Bryn-Julson/Ensemble Intercontemporain/
Pierre Boulez
Deutsche Grammophon 4317512