Threni: id est Lamentationes Jeremiae Prophetae
(1958)
for soprano, alto, 2 tenor and 2 bass soloists, chorus, and orchestra
Duration: 35'
Music Text
from the Vulgate (L)
Scoring
2.2.corA.2.bcl.0.sarrusophone-4.0.bugle.3.1-timp.perc:tam-t-harp-cel-pft-strings
Abbreviations (PDF)
Publisher
Boosey & Hawkes
Territory
This work is available from Boosey & Hawkes for the world.
Availability
World Premiere
9/23/1958
Sala della Scuola Grande di S. Rocco, Venice
Ursula Zollenkopf, Jeanne Deroubaix, Hugues Cuenod, Richard Robinson, Charles Scharbach, Robert Oliver / NDR Chor & Sinfonieorchester / Igor Stravinsky
World stage premiere
6/14/1999
Carre, Amsterdam
Peter Sellars, director / Nieuw Sinfonietta/Asko Ensemble & Schoenberg Ensemble / Reinbert de Leeuw
Repertoire Note
Stravinsky's longest serial score, Threni sets passages from the Lamentations of Jeremiah. An unusual feature is the musical treatment of the Hebrew letters offsetting the different verses. "The effect," writes Eric Walter White, "is like that of a series of illuminated initials embellishing a manuscript; and the special cadential qualities of these brief harmonic glosses give them a curious kind of nimbus."
Repertoire note by Joseph Horowitz
A setting for soloists, chorus and orchestra of the Old Testament Lamentations of Jeremiah. Like the Canticum Sacrum, it was written for and premiered in Venice. It is Stravinsky's longest serial work containing intense contrapuntal writing. The structure is punctuated by settings of the Hebrew alphabet, described by one commentator as like illuminated initials embellishing a manuscript. Despite being scored for large orchestra, Stravinsky frequent use of chamber scoring gives the music a striking transparency . It could be effectively programmed with much earlier settings of the Lamentations, such as by Tallis, but equally with a more recent a cappella version such as that by Ginastera. Bernstein's Symphony No. 1 'Jeremiah' follows the Biblical story programmatically and, in the third movement, a mezzo-soprano sings settings of texts from the Lamentations.
Repertoire note by Jonathan Cross
Subjects
Recommended Recording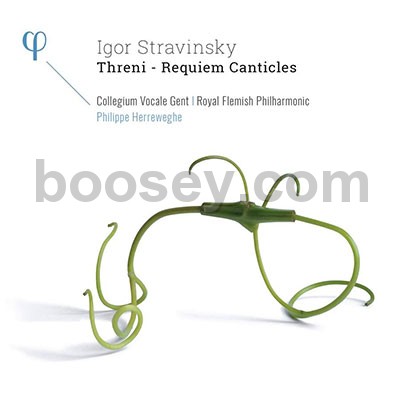 Collegium Vocale Gent/Royal Flemish Philharmonic/
Philip Herreweghe
Phi LPH020
Links