for solo flute(s)
Duration: 23'
Scoring
fl/picc/afl/bfl(ad lib)
Abbreviations (PDF)
Publisher
Boosey & Hawkes / Bote & Bock
Territory
This work is available from Boosey & Hawkes for the world.
World Premiere
7/18/1974
Kyoto
Chang-Kook Kim, flute /

Programme Note
Yun set new standards in compositional and playing technique with the five contrastingly interrelated Études for solo flute(s). Étude I (Moderato, for large flute) thematizes the main tone (and Yun's main-tone technique) with static, individually expounded, long-drawn-out central tones: "Each tone here is like a brick, present energy at the moment; it is only at the end that an explosive liquidation occurs" (Roswitha Staege). The more flexible character of the Étude II (Adagio, for alto flute) is shown already in the more variable dynamics of the beginning: low registers, dark colors, quiet dynamics, long-drawn-out tones; only the contrasting middle part is heard in extreme animation.

Étude IV (Andante, for bass flute) begins with static main tones in a low register and is colored by varied dynamics and sound formation of noise character. The main tones are initially led downward but then, with the exception of one descent, proceed upward amid continuous development (to a2, which is very high for the bass flute). As already in Étude III (Allegro, for piccolo flute), the sound resources of the instrument end up being multiplied: first through multiple tones and then through structuring in two parts produced by the flutist by simultaneously blowing into the instrument and singing. The quiet conclusion of noise character occurs at the limits of perception.
Recommended Recording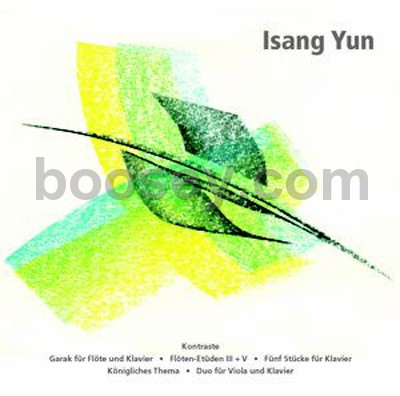 Bernhard Kury, Liam Mallett, Aya Hemmi, Márton Végh, Andreas Kißling (Etudes Nos.1–5)
Internationale Isang Yun Gesellschaft IYG 006, 007, 009