for cello and piano
Duration: 17'
Publisher
Boosey & Hawkes
Territory
This work is available from Boosey & Hawkes for the world.
World Premiere
4/17/2001
Queen's Hall, Edinburgh
Julian Lloyd Webber, cello/John Lenehan, piano /

Composer's Notes
The second Sonata is written in one movement, in a seven sectioned palindromic arch. The first three sections present different materials and culminate in a mysterious central section after which the materials go into reverse and retreat back to the opening idea through sections 5,6 and 7.
The work opens with the cello on a high trill under which the piano presents a series of fragmented chords, clusters and single tolling tones. Section two is given over to a rollicking dance-like theme on unaccompanied solo cello, before being joined by delicate, glistening, scurrying material on piano. Section 3 is based on a melody of 50 notes of different durations on the cello, accompanied by some of the previous glistening material - but the piano now introduces its own rhythmic dance fragments. The middle section brings back the opening fragmented material on the piano but now the cello takes up the piano dance music on ethereal high harmonics.
The retrograde, from section five to the end, is not a literal one, but rather the roles of the two instruments are swapped. The dance music ideas previously played by one instrument are given to the other, the long spaced out durations on the cello are given to the piano, and the piano's earlier glistening and scurrying are transformed to the cello. In the final section we hear the cello sustain double-stopped octaves while the piano's isolated chords from the opening go into a literal retrograde. The work ends with an abrupt, aggressive codetta on low piano.
James MacMillan 2001
Reproduction Rights
This programme note can be reproduced free of charge in concert programmes with a credit to the composer
Recommended Recording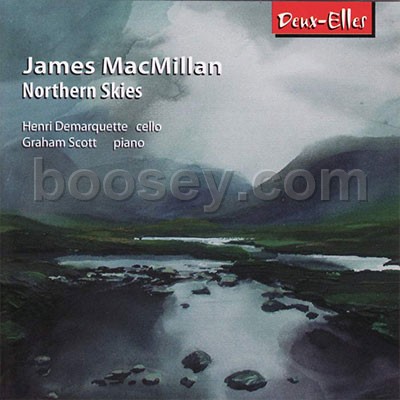 Henri Demarquette vcl / Graham Scott pft
Deux-Elles DXL 1115