for mixed chorus (SATB) with accompaniment of organ, harp, string trio or any three like instruments
Duration: 2'
Music Text
'The Man with the Blue Guitar' (Wallace Stevens) (E)
Abbreviations (PDF)
Publisher
Boosey & Hawkes
Territory
This work is available from Boosey & Hawkes for the world.
Availability
World Premiere
12/12/1998
Walker Hall, Kilbirnie, Ayrshire
Cunningham Chamber Choir/members of the North Ayrshire Youth Silver Band / Dorothy Howden
Repertoire Note
Choral level of difficulty: 2 (5 greatest)
This simple secular setting of texts from Wallace Stevens's The Man with the Blue Guitar has a flexible instrumentation, either for organ, harp, string trio or any three like instruments. The slow alternating accompaniment beneath the choir summons up guitar chords while bluesy harmonies are provided by the voices.
The instrument/s sets up a ground bass that is imitated by the other instrumental parts over which the choir sings colourful phrases including 'blue' coloured chords. There is a lovely sense of stylistic cross-over in this piece. As with so much MacMillan, the ambiguity of meaning within the words lends ambiguity to the musical style that gives it a sense of mystery way beyond the scale of a little piece. It is one of the fascinating elements of MacMillan's style that the effect, the atmosphere, the ephemeral spirit remains with the listener long after the performance has ended. To sum up - a beautiful, straightforward and imaginative piece.
Repertoire Note by Paul Spicer
Recommended Recording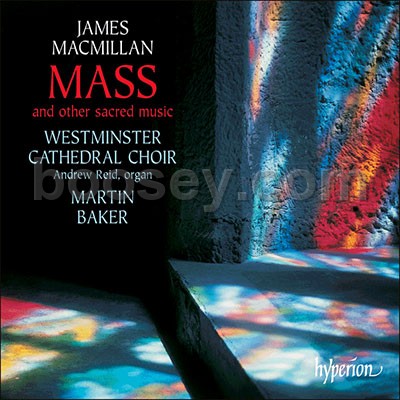 The Choir of Westminster Cathedral/Andrew Reid/Martin Baker
Hyperion CDA67219
Links