Magnificat and Nunc Dimittis
- Orchestral version
(1999/2001)
for SATB choir and orchestra
Duration: 21'
Music Text
1662 Book of Common Prayer (E)
Scoring
2(II=picc).2(II=corA).2.2-4.3.3.1-timp.perc(2):vib/glsp/t.bells/tam-t/susp.cym-harp-organ(ad lib)-strings
Abbreviations (PDF)
Publisher
Boosey & Hawkes
Territory
This work is available from Boosey & Hawkes for the world.
Availability
Composer's Notes
The Magnificat was commissioned by the BBC for the first choral evensong of the new Millennium, at Wells Cathedral. There are two versions, one for orchestra and choir and one for organ and choir. The choral writing is simple and homophonic, each phrase punctuated by an introspective instrumental echo. The music gradually builds to a joyous climax in the doxology.
The Nunc Dimittis was commissioned by Winchester Cathedral and is based on similar material. Some of the organ interjections are audibly recognisable from the Magnificat, but the vocal lines have been modally altered. The principal feature of this movement is an unusual unison melody involving treble, alto and tenor voices, with the sesquialtera stop. Some of the climactic music from the Magnificat is recalled for the final Amen. The work opens and closes with quiet ethereal low notes on the organ and in the basses.
James MacMillan
Reproduction Rights
This programme note can be reproduced free of charge in concert programmes with a credit to the composer
Repertoire Note
Choral level of difficulty: 2-3 (5 greatest)
MacMillan's large-scale festival settings of the Magnificat and Nunc Dimittis can be performed with organ or orchestra. The Magnificat was commissioned by the BBC for the first Choral Evensong of the new Millennium and the Nunc Dimittis by Winchester Cathedral. The choral style is simple and often homophonic (unusual for the composer) as in the celebratory Gloria. Much of the elaboration of the textual imagery occurs in the introspective, Messiaen-tinged non-choral episodes, evoking evening and birdsong.
The Magnificat is a large-scale work which is genuinely straightforward to sing. It lasts some 12 minutes, although when the organ accompanied version is used liturgically this reduces to about ten minutes as MacMillan has authorized a major cut from the introduction. The contrast between the colourful orchestral/organ interludes and the simple homophonic statements from the choir is marked. As so often in MacMillan's music it all leads somewhere, however, and the build up towards the Gloria becomes intensely contrapuntal before the Gloria returns to the stark statements of earlier, but this time fortissimo. The work subsides to a meditative end. The Nunc Dimittis, lasting eight minutes, shares some musical material with the Magnificat and starts wonderfully with very low bass notes portraying the elderly Simeon. It builds to a huge and exciting climax and ends with the basses' low notes once more.
Repertoire note by Paul Spicer
Subjects
Recommended Recording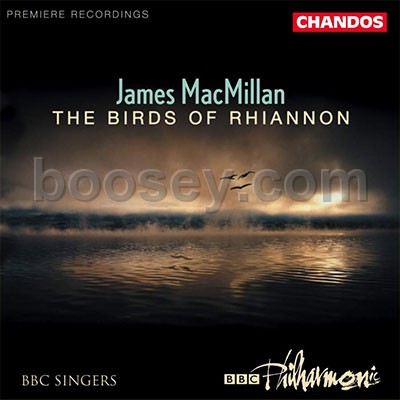 BBC Singers/BBC Philharmonic/James MacMillan
Chandos CHAN9997
Links