The Birds of Rhiannon
(2001)
Tone-poem for orchestra with optional chorus (SATB)
Duration: 24'
Music Text
Michael Symmons Roberts (E)
Scoring
2.picc.2.corA.2.bcl.dbcl.ssax.2.dbn-4.3.3.1-timp.perc(4):glsp/tuned gongs/t.bells/6low bells/vib/
marimba/3wdbl(graded)/6tpl.bl/3cowbells/guiro/whip/rainstick/3metal sheets(sm,med,lg)/
thundersheet/bongos/bodhran/brake dr/SD/TD/BD/2flexatones/susp.cym/water gongs(sm,lg)/
2gliss.gongs/tam-t-harp-strings
Abbreviations (PDF)
Publisher
Boosey & Hawkes
Territory
This work is available from Boosey & Hawkes for the world.
World Premiere
7/26/2001
Royal Albert Hall, London
The Sixteen / BBC Philharmonic / James MacMillan

Composer's Notes
This is a through-composed work comprising four sections and lasting about twenty five minutes. The final section is a coda involving a choir and the text is a poem with the same title by Michael Symmons Roberts. The piece is essentially abstract, but was inspired by a myth from the Mabinogian (a collection of ancient Welsh stories). The Birds of Rhiannon are mystical, angelic presences which appear and sing on the death of Bran – a Fisher King-type figure who sacrifices his life (he is beheaded) for the sake of peace between two warring peoples. In essence the work could be described as being a dramatic concerto for orchestra with a mystical coda for choir.
The first section presents a number of co-existing layers. On one level there is a watery, floating, delicate music on violins and tuned percussion, on another a deep sonorous chordal material on low brass and strings, and on another a more wistful, yearning, melodic idea in parallel thirds involving violas and pairs of wind instruments. The low material becomes more threatening and sweeps the music forward. A thematic fragment of recurring prominence (a rising third) is blasted out just as the music goes into the first of a series of metric modulations. Orchestral combinations are used to paint and point a number of thematic and accompanimental materials and the music gradually becomes more lively and dance-like in character. A reel and a jig are invoked en route to the work's first climax – a wild and primitive "stomp" dominated by the hammering of metal sheets, florid brass and an anguished wailing in upper woodwind.
After an abrupt halt, the second, slow section begins with canonic material on high bassoons and cellos. This paves the way for music of a flowing melancholic contrapuntal nature, dominated by the strings. A number of sub-elements are superimposed or appear in parentheses (a gentle nursery rhythm on harp, a child-like, folk-like theme on piccolo and glockenspiel, a soft pattering of rain on pizzicato violins and percussion, a distant shudder on low woodwind) but the accumulation of string polyphony remains predominant. Underlying this, however, one eventually hears a distant ominous presence on low brass. Hunting horns, war horns, the military archetypes of the brass section are evoked and combine with a relentless marching tread of drums. This new material grows in prominence and eventually overwhelms everything else and sets the scene for the following section.
In the third section violins and violas are silent, while woodwind, brass and percussion join in brash "outdoor" material, celebratory and boisterous. The episodic treatment of this is again subjected to a series of metric modulations. An insistent soaring line dominated by the rising third, is heard at intervals on high cellos and saxophone, evoking the tragedy at the heart of the Mabinogian tale which inspired this music. Again the music is swept towards violence and a distortion of the original wistful theme appears on strings and high woodwind, marked "anguished, sorrowful". A calm counterbalance to this is provided by the return of the deep sonorous chordal material before the music reaches a cathartic, chaotic tutti. The metal sheets are again pounded rhythmically and the Birds of Rhiannon are invoked.
In the final coda section the choir begins to sing in a throaty, florid and extrovert way, but gradually their music is becalmed, and they settle to a more incantatory form. Their song is now more simple, revolving around a cycle of adjacent chords. The ancient Welsh texts said that their song "raised the dead and lulled the living to sleep.":
Hauls of fish are clenched
in rock pools' carapace of ice.
Tide is always low, so gales turn
kelp and wrack to snake skins.
Shadow gulls on sand-ribs
are a vanishing calligraphy,
And high above, their mimics loop
like voiceless acolytes,
Whose song died when our king
gave his throat to the blade.
East means nothing now,
nor west, no happenstance
Of rock can bear the name of Britain
now that he lies broken.
O Bran, land and sea lay waste
to one another, sky can only light itself,
O head, rocked to sleep,
nuzzled and fed like a baby,
O warlord, O wean, gentle in
an arm's crook, lulled by old songs,
Only when soil shuts your eyes
will seeds of spring be sown,
Only when you are made whole
will corpses break their stones and rise.
© Copyright by Michael Symmons Roberts
The Birds of Rhiannon is dedicated to Cara Henderson, the founder of the Nil By Mouth Organisation.
Programme note by James MacMillan, 2001
Reproduction Rights
This programme note can be reproduced free of charge in concert programmes with a credit to the composer
Repertoire Note
Choral level of difficulty: 4-5 (5 greatest)
Choral forces join the orchestra in the final, culminatory section of this powerful tone-poem, setting poetry by Michael Symmons Roberts inspired by Welsh mythology. The Birds of Rhiannon appear above the sea to lament the death of the self-sacrificing King Bran. From the fierce threnodic opening the vocal writing relaxes into florid, rhapsodic vein before a series of full-throated paeans herald the hope of resurrection. The vocal segment of the work lasts seven minutes, and provides a compact introduction to MacMillan for symphonic choruses.
There is a dramatic first section to the work, a meditative second section building to a huge climax. An Andante third section featuring a battery of unusual percussion uses a chorale-like motif (also a feature of Quickening) and leads to a final section that employs the choir for the first time. This is scored as SSAATTBB (and is not for the faint-hearted!). This final music is very beautiful indeed and although MacMillan has written an alternative ending for when there is no chorus available, to my mind, this is what makes this work. It is big, passionate choral writing (with something of the elemental feeling of Britten's Grimes), with the choir in the foreground and spectral memories of orchestral events hovering in the distant background. This declamatory opening winds down to a peaceful and easier central section and this then builds again to wonderfully wide-spaced culminatory chords of G major, repeated several times, topped by a short orchestral coda.
More straightforward (and shorter) than Quickening and, for a conductor looking for a MacMillan choral/orchestral work to cut his/her teeth on, this is an ideal starting point.
Repertoire Note by Paul Spicer
Press Quotes
"...boldly coloured music, dramatic confrontations of ideas, a powerful surge of momentum, and instrumental lines that have an independent life but gel as a cohesive texture... MacMillan shares with Rimsky a virtuosity in defining and combining instrumental timbres."
Daily Telegraph
Subjects
Recommended Recording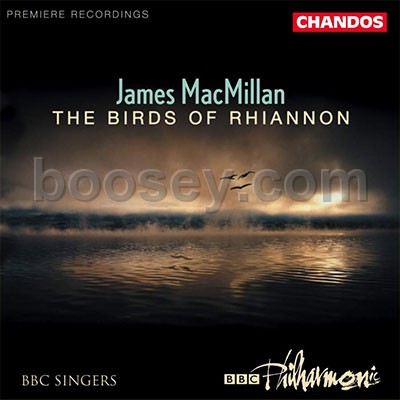 BBC Philharmonic Orchestra / BBC Singers / James MacMillan Chandos CHAN9997