A Nativity Oratorio for chorus and orchestra
Duration: 111'
Music Text
Libretto adapted by Peter Sellars and John Adams from poems by Rosario Castellanos, Gabriela Mistral, Hildegard von Bingen, Sor Juana Inés de la Cruz, Rubén Darío, Vicente Huidobro, Martin Luther, and texts from the King James Bible, The Wakefield Mystery Plays and gnostic gospels. (E-S)
Scoring
S,M,Bar,3CT; chorus; children's chorus
2(I,II=picc).2(I,II=corA).2(II=bcl).2(II=dbn)-3.0.3.0-perc(3):I=glsp/lo tgl/gong/almglocken/guiro/maracas; II=crot/almglocken/gong/hi cowbell/3tgl/tpl.bl; III=gong/chimes/crot/claves/2tgl/2temple bowls-harp-pft(=cel)-2kbd (I=pft,cel;II=sampler,cel)-2steel string gtr-strings(minimum 14.0.6.6.4)
NOTE: The hiring of a sound designer is a condition/requirement for permission.
For complete technical specifications go to: mhgrey.wordpress.com
Abbreviations (PDF)
Opera
For full details on this stagework, including synopsis and roles, please visit our
Opera
section.
Publisher
Boosey & Hawkes (Hendon Music)
Territory
This work is available from Boosey & Hawkes for the world.
Availability
World Premiere
12/15/2000
Châtelet, Paris
Dawn Upshaw/Lorraine Hunt-Lieberson/Willard White/Peter Sellars, director / Deutsches Symphonie Orchester/London Voices / Kent Nagano
Subjects
Recommended Recording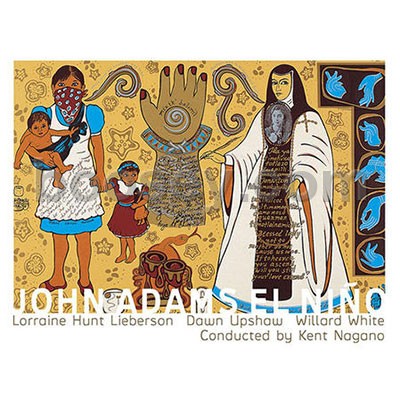 News stories for this title:
Links