for 12 wind instruments and double bass
Duration: 8'
Scoring
2ob.2cl.2bhn.2bn-4hn-db/dbn
Abbreviations (PDF)
Publisher
Boosey & Hawkes
Territory
This work is available from Boosey & Hawkes for the world.
World Premiere
2/13/2014
West Road Concert Hall, Cambridge
Britten Sinfonia / Mark Simpson

Composer's Notes
This work, a short companion piece to Mozart's Gran Partita, had a difficult gestation period. I spent a long time thinking about what my relationship to this great work was, having performed and conducted it several times, and how I could possibly reflect the beautiful sonorities, perfect voicings, endless invention and emotional directness. I was also interested in the unusual combination of wind instruments, including basset horns, and originally sought to divide the ensemble into two groups of six, divided by the double bass, and to explore the vast array of instrumental combinations, whilst also exploring palindromic material as reflected by the ensemble's layout. Gradually my ideas merged and a musical structure started to appear that had a broad arch shape with an explosion in the middle.
The piece begins with thick, warm tutti chords with 'bubbling' textures in the clarinets and basset horns. It has inherent potential – sonic and emotional – and there are clues in the gestures and textures, although the outcome is not entirely certain. Singing oboe lines then lead to an explosive section where shrill, yet flowing melodic lines are pitted against swelling chords creating an active texture. After this the horns take centre stage in a passage that pits a pair playing flutter tongued against the other pair playing stopped, creating an angular surface texture accompanied by a rousing harmonic progression. This summons another outburst, here with singing melodic lines in the horns, that leads to the basset horns at the top of their range, playing unrelentingly. A series of three huge tutti chords punctuated by aggressive, rising lines pre-empts a final, tutti singing passage. This eventually leads to a gentle, rising music in the highest range of the oboes and the final utterance of the opening chordal gesture, which feels unsure as to whether it has achieved its true potential.
The overall musical shape bears a relationship with Geysers found in Iceland and America, but not having been to one myself I felt it inappropriate to name the work directly after something I was yet to visit! So I chose the original Icelandic root word from which Geyser is derived, Geysir, to gush...
The work is dedicated to Simon Holt.
Mark Simpson, 2014
Recommended Recording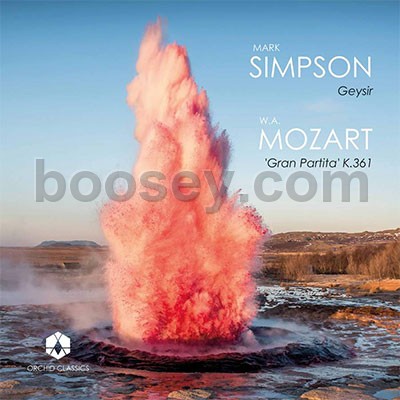 Mark Simpson/Fraser Langton/Nicholas Daniel/
Emma Feilding/Amy Harman/Dom Tyler/
Oliver Pashley/Ausiàs Garrigós Morant/
Ben Goldscheider/Angela Barnes/James Pillai/
Fabian van de Geest/David Stark
Orchid Classics ORC100150
News stories for this title: