for violin and orchestra
Duration: 25'
Scoring
Solo violin-2.2.2.2-2or4 hn.2.0.0-timp(5dr).perc(2):I=marimba/glsp/susp.cym/tgl.picc/med.maracas/guiro/sm.brake drum/lg.whip;II=marimba/2crot/sm.tam-t/tgl/lg.maracas/med.and lg.brake drums/ratchet-harp-strings
Abbreviations (PDF)
Publisher
Boosey & Hawkes (Hendon Music)
Territory
This work is available from Boosey & Hawkes for the world.
World Premiere
5/3/2003
Symphony Hall, Detroit, Michigan
Ida Kavafian, violin / Detroit Symphony Orchestra / Neeme Järvi

Composer's Notes
Fire and Blood, a concerto for violin and orchestra, was commissioned by the Detroit Symphony Orchestra. The world premiere was given by the Detroit Symphony Orchestra under the direction of Neeme Jarvi, with Ida Kavafian, solo violin, at Symphony Hall, Detroit, Michigan on May 3, 2003.

In 1932, Edsel Ford commissioned the Mexican modernist artist Diego Rivera (1886–1957) to paint a mural representing the automobile industry of Detroit. Rivera came to Detroit and worked over the next two years to paint four large walls of the inner courtyard at the Detroit Institute of Arts. Considered among his best work, Rivera's extraordinary Detroit Industry murals have inspired me to create my own musical fresco for violin and orchestra. It was Rivera himself who predicted the possibility of turning his murals into music, after returning from a tour of the Ford factories: "In my ears, I heard the wonderful symphony which came from his factories where metals were shaped into tools for men's service. It was a new music, waiting for the composer…to give it communicable form."

I. Volcano
Before coming to Detroit, Rivera lived in Mexico City, surrounded by volcanoes. Fire is an important element in his murals, which depict the blaze of factory furnaces like erupting volcanoes. Volcanic fire was also associated with revolution by Rivera, an ardent member of the Mexican Communist party. He saw the creation of the Detroit murals as a way to further his revolutionary ideas. The music of the first movement responds to the fiery furnaces of Rivera's imagination. The violonist plays virtuosic triple stops, while the orchestra explodes with pulsating energy. The composition alternates between repeated patterns in 7/4 time and polytonal passages that occur simultaneously in different tempos. It concludes with an extended violin cadenza accompanied by marimba and maracas.

II. River Rouge
At the Ford River Rouge Automobile Complex, located next to the Detroit River, Rivera spent many months creating sketches of workers and machinery in action. He was accompanied by his young wife, the remarkable Mexican painter Frida Kahlo (1906–1954). She lived in constant pain as a result of polio in childhood and a serious bus accident at age 18 in Mexico City. Many of her self-portraits depict the suffering of her body. During her time with Rivera in Detroit, Kahlo nearly died from a miscarriage, as depicted in paintings such as Henry Ford Hospital and My Birth. The color of blood is everywhere in these works. She also had a passionate and playful side: she loved wearing colorful traditional Mexican dresses and jewelry, drinking tequila and singing at parties. Kahlo's labors, grief, and zeal for life added another perspective to Rivera's industry. This movement is dedicated to Frida Kahlo's spirit. The solo violin introduces two main themes. The first theme is dissonant and chromatic, flowing like a red river of blood. The second is a haunting melody that Kahlo herself might have sung, longing to return to her native Mexico. The orchestra resonates with floating marimbas and string tremolo, echoing like a mariachi band in the distance. The orchestration is colorful, like the bright tapestries of her dress. While death and suffering haunt the music, there is an echo of hope.

III. Assembly Line
Rivera described his murals as a depiction of "towering blast furnaces, serpentine conveyor belts, impressive scientific laboratories, busy assembly rooms; and all the men who worked them all." Rather than pitting man against machine, Rivera thought the collaboration of man and machine would bring liberation for the worker. The violin soloist in this final movement is like the worker, surrounded by a mechanical orchestra. The music is a roller coaster ride on a conveyor belt, moving rapidly in 7/8 time. This perpetual motion is punctuated by pizzicato strings, percussive whips, and brassy cluster chords. The percussion section plays factory noises on metal instruments like break drums and triangles, and a ratchet turns like the wheels of the machinery. In addition to this acceleration of multiple mechanical rhythms, the musical phrasing recalls the undulating wave pattern that moves from panel to panel in Rivera's mural.

— Michael Daugherty

Reproduction Rights:
This program note may be reproduced free of charge in concert programs with a credit to the composer.
Subjects
Recommended Recording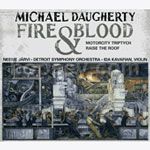 Ida Kavafian / Detroit Symphony Orchestra / Neeme Järvi
Naxos 8.559372