for timpani and orchestra
Duration: 13'
Scoring
2.picc(=fl).2.corA.2.bcl.2.dbn-4.3.2.bass trbn.1-timp.perc(3)-pft-strings
Abbreviations (PDF)
Publisher
Boosey & Hawkes (Hendon Music)
Territory
This work is available from Boosey & Hawkes for the world.
World Premiere
10/16/2003
Symphony Hall, Detroit, Michigan
Brian Jones, timpani / Detroit Symphony Orchestra / Neeme Jarvi

Composer's Notes
Raise the Roof (2003), for timpani and orchestra, was commissioned by the Detroit Symphony Orchestra for the opening of its Max Fisher Music Center. The world premiere was given by the Detroit Symphony Orchestra under the direction of Neeme Jarvi, with Brian Jones, timpani, at Symphony Hall, Detroit, Michigan on October 16, 2003. Duration is 12 minutes.

Raise the Roof brings the timpani into the orchestral foreground as the foundation of a grand acoustic construction. I have composed music that gives the timpanist the rare opportunity to play long expressive melodies, and a tour de force cadenza. The timpanist uses a wide variety of performance techniques: extensive use of foot pedals for melodic tuning of the drums, placement of a cymbal upside down on the head of the lowest drum to play glissandi rolls, and striking the drums with regular mallets, wire brushes, maraca sticks, and even bare hands.

Another compositional building block in Raise the Roof is a brooding theme reminiscent of a medieval plain chant, first heard in the timpani and the flutes and later in the strings and tuba. This theme is repeated and passed around in canons and fugues and other permutations throughout the orchestra, to create elaborate patterns as in a gothic cathedral.

I have also composed a lively, pulsating melody for the orchestra combining rock and latin rhythms. The music is a cascade of major and minor triads, like laying down bricks and stones to build up a 'wall of sound.' Raise the Roof rises toward a crescendo of polyrhythms and dynamic contrasts, allowing the orchestra to construct a grand new space for performing music of the past, present, and future.

Programme Note
PROGRAM NOTE





Raise the Roof (2007) for Timpani and Symphonic Band was commissioned by the University of Michigan Symphony Band, Michael Haithcock, music director.  The first performance was given by the University of Michigan Symphony Band under the direction of Michael Haithcock, at the 2007 College Band Directors National Association Convention at the University of Michigan, Hill Auditorium, Ann Arbor, Michigan on March 30, 2007.
 
Raise the Roof brings the timpani into the foreground and gives the timpanist the rare opportunity to play long expressive melodies, and a tour de force cadenza.  I incorporate a wide variety of timpani performance techniques: extensive use of foot pedals for melodic tuning of the drums, placement of a cymbal upside down on the head of the lowest drum to play glissandi rolls, and striking the drums with regular mallets, wire brushes, maraca sticks, and even bare hands.


Raise the Roof is in the form of a double variation, also known as alternating variations. The first theme of the double variation, played initially by the tuba, is presented in various timbral and rhythmic guises such as a "guaguanco". The second theme of the double variation, first heard in the flutes and then the timpani, is reminiscent of a medieval plain chant.  The chant is repeated and passed around in canons and fugues and other permutations throughout the ensemble, to create elaborate patterns as in a gothic cathedral.  Raise the Roof rises toward a crescendo of polyrhythms and dynamic contrasts, allowing the timpani and the symphonic band to create a grand acoustic construction.


-Michael Daugherty
Subjects
Recommended Recording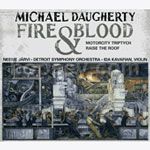 Detroit Symphony Orchestra / Neeme Järvi
Naxos 8.559372