Music Text
Libretto by Michel van der Aa (E)
Scoring
S,Bar;
1.0.1.0-1.1.0.0-perc(1)-pft/synthesizer-laptop/doubleA player-strings(1.1.1.1.1);
soundtrack(surround); film(multiple screens)
Abbreviations (PDF)
Opera
For full details on this stagework, including synopsis and roles, please visit our
Opera
section.
Publisher
Boosey & Hawkes / Bote & Bock
Territory
This work is available from Boosey & Hawkes for the world.
Availability
World Premiere
7/29/2021
Werkstattbühne, Bregenz
Michel van der Aa, director / Bregenzer Festspiele / Ensemble Musikfabrik / Roderick Williams, baritone / Julia Bullock, soprano / Otto Tausk
Composer's Notes
What if our minds could live forever? Recent advances in artificial intelligence and neuroscience mean that we will soon be able to map our memories and experiences, and to use these data to build a digital consciousness identical with our own. These 'whole brain emulations' will be able to carry on indefinitely after our deaths: a way of virtual resurrection. But where do our identities really reside? In our minds, our bodies, or our relationships? And how far do the data of our lives determine our fate?
Upload tells the story of a daughter and her father who, when confronted by his inevitable death, has his thoughts and memories "uploaded" to achieve an eternal digital consciousness. The deeply emotional work poses age-old philosophical questions—about fate, identity, the cost of immortality, and the ethics of technological advancement—that take on new significance against a backdrop of present-day and near-future technologies.
Michel van der Aa
Subjects
Recommended Recording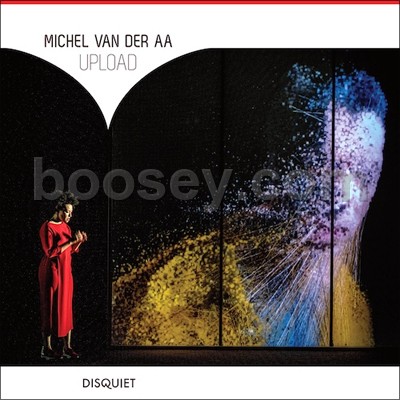 Julia Bullock / Roderick Williams / Ensemble musikFabrik / Otto Tausk, cond. / Dutch National Opera
Disquietmedia (digital audio release)
https://disquietmedia.net/upload/
Links