for orchestra and soundtrack
Duration: 15'
Scoring
0.0.Ebcl.2(II=bcl).0-2.2.2.btrb.1-perc(2)-strings(12.12.10.8.6)-soundtrack(laptop, 1 player)
Abbreviations (PDF)
Publisher
Boosey & Hawkes / Bote & Bock
Territory
This work is available from Boosey & Hawkes for the world.
World Premiere
10/15/2004
Donaueschingen
SWR-Sinfonieorchester Baden-Baden und Freiburg / Roland Kluttig

Composer's Notes
One could describe Second Self as an internal conflict. A live orchestra, a solo string quartet and taped samples of the orchestra are the 'characters' and in their interactions and confrontations we see the trajectory of the piece.

A string quartet detaches itself from the orchestra. It emerges as an alter ego, another version of the orchestra itself. The orchestra is challenged and prodded by these four players. As the balance of power shifts, so does the surrounding aural landscape.

The musicians are joined by an invisible partner, a soundtrack that enters into a dialogue with them. The soundtrack is profoundly fused to the music as an extension of the sound itself - an additional instrument, as it were.

In the end, the string quartet answers the orchestra with sampled excerpts of musical material and in doing so eventually obliges the orchestra to become a mime artist. The orchestral musicians continue playing, but their sound has been robbed by their alter ego.

© 2004, Michel van der Aa

"Second Self" was commissioned by Donaueschinger Musiktage.
Press Quotes
"Sophisticated shadow plays." (Eleonore Büning, Frankfurter Allgemeine Zeitung. 19 Oct 2004)

"Perfect and emotionally balanced... emotion and superior technique exactly form the grandiose combination that rules in Van der Aa's composing... virtuosic use of electronics... a work full of fantasy that always sounds apparent and striking but also always surprises." (Telegraaf, 12 Dec 2004)

"Fresh music that carefully balances the electronic and acoustically produced sounds." (Trouw, 9 Dec 2004)

"Michel van der Aa'a highly expressive work Second self depicts an exciting inner conflict. Sensitive plainchant passages and virtuoso pizzicato interludes are accompanied by ticking time measures and extreme rhythmic changes. We hear clusters forming in several layers. A live orchestra, a solo string quartet and recorded samples of the orchestra make up the virtuoso 'characters'. Roland Kluttig consistently developed the interactions and vibrant confrontations of this inwardly glowing piece. Again and again the surrounding aural landscape would lurch and lose its balance. Somewhat mysteriously, the musicians were joined by an invisible partner. The string quartet responded to the orchestra with sampled excerpts of the musical material. One attractive element of the piece were its prominent dynamic contrasts." (Alexander Walther, Das Orchester 1/2005)
Recommended Recording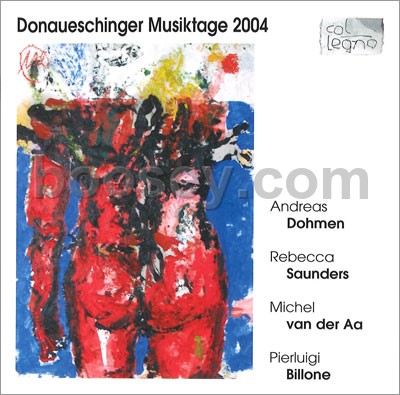 SWR-Sinfonieorchester Baden-Baden und Freiburg / Roland Kluttig
(Donaueschingen Music Days 2004)
Col Legno WWE 1CD 20245