Express Abstractionism
(2017)
for orchestra
Duration: 13'
Scoring
3(3=picc).2.corA.2(2=EbCl).bcl.3(3=contra) - 4.3.2.btbn.1 - timp - perc(4) - hp - pno/cel - strings
Abbreviations (PDF)
Publisher
Boosey & Hawkes (Hendon Music)
Territory
This work is available from Boosey & Hawkes for the world.
Availability
World Premiere
2/8/2018
Symphony Hall, Boston, MA
Boston Symphony Orchestra / Andris Nelsons
Programme Note
In the months leading up the first notes of this piece being put on paper, I had a lot of ideas. This seems obvious enough, you might imagine. To this I must reply: even a bad idea can be difficult to come by; a good (fertile, useful, flexible, clear, sincere) idea is a unicorn trotting among the four-leaf clover in Shangri-La. To have more than enough thoughts, good or bad, jangling around for a piece is, well, for me: rare.
So what to do with a lot of ideas? As far as I can count, two options: rush them down the flooding river of time as quickly as possible, one after the other, or: stack them on top of each other, like pancakes or Jenga or Tetris. The two-dimensionality of this conundrum led to the first good idea I had for this piece, which was to look to those who've dealt with it on canvas or in space, while choosing to leave each idea (a line, a color, a shape, a void) as naked as it came to them. There is stacking that goes on, but I would say the nature of this piece follows the first option – things tend to occur rather quickly over these four short movements (what occurs to me, after the fact, is that I might possibly have written a very small symphony) – hence my too-clever-by-half play on words for a title: Express Abstractionism.
Beyond the fact that I am immediately and consistently drawn to their work, these artists have no particular relationship to each other, other than a basic definition of working predominantly as abstract (ie. non-representational, but even that can be complicated) artists. Lee Krasner was an actual Abstract Expressionist (though sadly to me and my personal taste, she is probably better known as being widowed by another one). I would classify three of these artists as "iconic" – their work can be quickly recognizable as their own, and can even be emblematic of their time – while the only living artist, Gerhard Richter, continues to evolve and confound. In fact, putting these five together means that one can find an outlier in many kinds of comparisons – but a tie that appears significant to me is the generally tragic role that the political events of the early and middle Twentieth Century played in each of their lives.
As a citizen, I'm consumed by the events of our time, and as a fascinated student of history, I feel greater unease about the future than I ever have in my still-short life. As someone who struggles with an appropriate creative response (or even whether to respond at all), I've taken retreat in the magic of these abstract ideas, and in their utter rawness and power in the face of … complication. Our cultural habit has been to take them – the ideas, the artists, the work, and the movement – very seriously, but I find it useful to view simply. A line is a line and blue is blue, and the brush that touches the canvas fits right in the hand – today, that to me is truth.
Express Abstractionism is dedicated to my partner, Jacob Goodman, whose curiosity, conversation, challenge, and support I treasure.
Press Quotes
"After a brief intermission, the BSO performed Shepherd's fascinating new piece. The BSO has performed several, great new classical works in the past few years and this entertaining piece deserves to be added to that list. Eerie and ethereal at times, Shepherd's composition covers a wide range and incorporates an incredible number of instruments, from sleigh bells to xylophones and everything in between." —Mass Live
"an attractive and colorful musical canvas" —The Classical Review
Subjects
Recommended Recording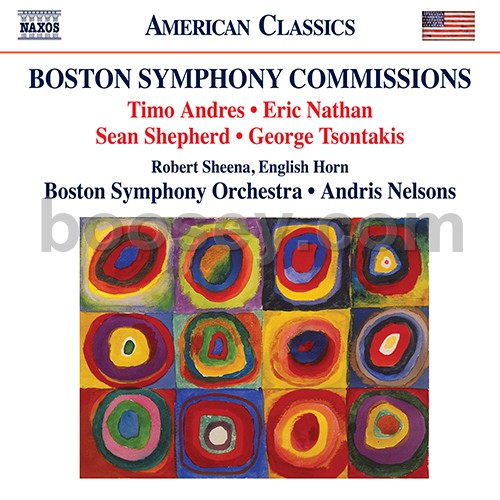 Boston Symphony Orchestra
Andris Nelsons
Naxos
Links