Le Pas d'acier
(The Steel Gallop)
op. 41
- Symphonic Suite
op. 41a
(1925-26)
for orchestra
Duration: 14'
Scoring
2.picc.2.corA.2.bcl.2.dbn-4.4.3.1-timp.perc(5):t.bells/xyl/cyms/tgl/
cast/SD/BD/tamb-pft-strings
Abbreviations (PDF)
Publisher
Boosey & Hawkes
Territory
This work is available from Boosey & Hawkes for the world.
Availability
Repertoire Note
Prokofieff's third ballet for Diaghilev is a highly entertaining product of that 1920s fashion for making art about the brave new world of machines and heavy industry and strong-muscled men engaged in hard labour. For good measure Prokofieff and his collaborators threw in a light-hearted sub-plot as well, about a sailor and his girl. The result is one of his most poster-paint scores, filled with bright and brittle imagery, breezy optimism and pulsing motor-rhythms.
As was his usual practice, when Prokofieff extracted this short symphonic suite, he cut and reordered the material and altered quite a few passages, to give the piece more of a symphonic feel and make it more effective in the concert hall. He ends the suite however in the same way as he ends the ballet, with the most exciting and original music in the score, an apotheosis of the life and sounds of an early 20th century factory. He makes marvellous use of the orchestra to describe the humming and whirring of machinery, complete with spinning cogs and flywheels and the thunder of hammers and chains.
Note by Gerard McBurney
Subjects
Recommended Recording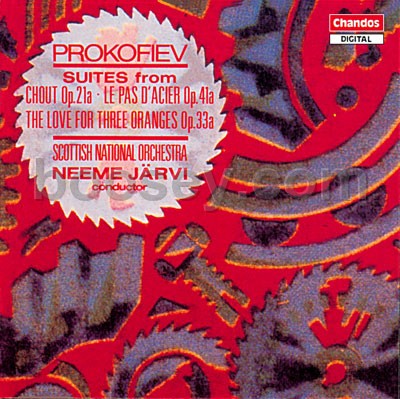 Scottish National Orchestra / Neeme Järvi
Chandos CHAN 8729
Links