Maddalena
op. 13
(1911-13)
Opera in one act, orchestrated by Edward Downes (1979)
Duration: 48'
Music Text
Libretto by the composer based on the play by Magda Gustavovna Liven (R,E)
Scoring
Major roles: S,T,Bar; minor roles: S,T; off-stage male chorus
3(III=picc).2.corA.3(III=bcl).3(III=dbn)-6.4.3.1-timp.perc(2):
tam-t/cyms/SD/BD/tgl-2harps-strings
Abbreviations (PDF)
Opera
For full details on this stagework, including synopsis and roles, please visit our
Opera
section.
Publisher
Boosey & Hawkes
Territory
This work is available from Boosey & Hawkes for the world.
Availability
World Premiere
3/25/1979
BBC Radio 3
BBC Northern symphony Orchestra / Edward Downes
World stage premiere
11/28/1981
Steirisches Herbst, Graz
Steirisches Herbst
Repertoire Note
Written at the age of 20, while studying as a postgraduate at the St Petersburg Conservatoire, Maddalena is the earliest Prokofieff opera to have reached the stage. However, it was in fact his fifth operatic work, emphasising how central the theatre was to his creative adolescence between 1900 and 1910. Prokofieff's libretto was drawn from a play by Baroness Magda Liven, which bears a striking resemblance to Oscar Wilde's A Florentine Tragedy. Its verismo plot describes a love triangle in which the femme fatale emerges as the victor to celebrate her liberation from her male lovers. The work is Prokofieff's most traditionally Romantic opera, including an extended love scene and a sequence of dramatic coups de théâtre. When hopes of performance in St Petersburg faded, the composer abandoned the orchestration, while retaining an affection for the work, describing it as "a chocolate with an expensive liqueur inside". The orchestration was completed in the 1970s by Edward Downes, allowing the opera's belated stage premiere.
Subjects
Recommended Recording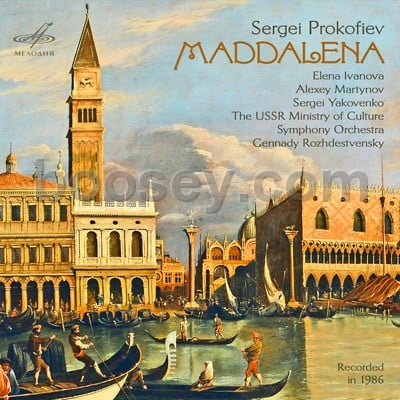 Elena Ivanova/Alexei Martynov/Sergei Yakovenko/Natalia Koptanova/Victor Rumyantsev/USSR Ministry of Culture State Symphony Orchestra, USSR Ministry of Culture Chamber Choir/Gennadi Rozhdestvensky
Melodiya SUCD 10-00053 (released also as Olympia OCD 215)
Links