On the Dnieper
(Sur le Borysthène)
op. 51
- Symphonic Suite
op. 51a
(1930)
Duration: 23'
Scoring
2.picc.2.corA.2.bcl.2.dbn-4.2.3.1-timp.perc-strings
Abbreviations (PDF)
Publisher
Boosey & Hawkes
Territory
This work is available from Boosey & Hawkes for the world.
Availability
World Premiere
1/1/1934
Paris
N.N. / Serge Prokofieff
Repertoire Note
On the Dnieper is the most mysterious and least-known of Prokofieff's ballets. Its original title was Sur le Borysthène (Borysthene is the ancient Greek name for the mighty river Dnieper which flows southwards through Belorus and the Ukraine into the Black Sea) and the subject was modern Ukrainian village life, with a very simple story about an unhappy love-triangle between a peasant boy and two girls. The style of music and dancing was intended by Prokofieff and his choreographer, Serge Lifar, to be as cool, pure, lyrical and abstract as possible.
To Prokofieff's grief, the French critics savaged the piece at its first performance and it has rarely been played since. But he himself never lost faith in it, believing it to be among the truest music he had ever written and a worthy tribute to the gentle Ukrainian countryside where he had grown up. He made from the score this symphonic suite which includes the prelude, music from the bitter-sweet wedding scene (when the boy gets married to the wrong girl), and almost the whole of the last part of the ballet where, after a painful struggle, the new wife generously gives up her husband to the other girl. This is music of the rarely heard intimate Prokofieff, soft and undemonstrative, with a quiet sense of landscape (almost like a Russian Aaron Copland!) and a soaringly passionate love-theme that returns with sensuous power in the closing pages.
Note by Gerard McBurney
Subjects
Recommended Recording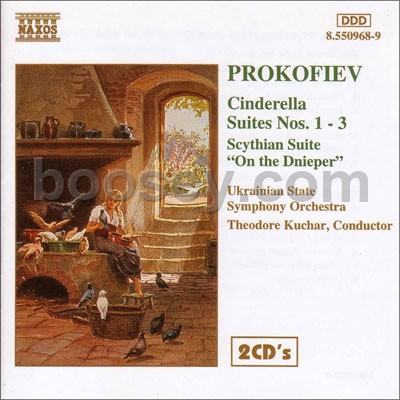 Ukrainian State Symphony Orchestra / Theodore Kuchar
Naxos 8.550968-69
Links