Music for Ensemble and Orchestra
(2018)
for ensemble and orchestra
Duration: 20'
Scoring
Ensemble: 2.2.2.0-0.0.0.0-2pft-2vib-str(2.2.2.2.2elec bass)
Orchestra: 0.0.0.0-0.4.0.0-perc-strings (minus contrabass)
Abbreviations (PDF)
Publisher
Boosey & Hawkes
Territory
This work is available from Boosey & Hawkes for the world.
World Premiere
11/1/2018
Walt Disney Concert Hall, Los Angeles, CA
Los Angeles Philharmonic / Susanna Mälkki
Composer's Notes
Music for Ensemble and Orchestra is an extension of the Baroque Concerto Grosso where there is more than one soloist. Here there are 20 soloists—all regular members of the orchestra, including the first stand strings and winds, as well as two vibraphones and two pianos. The piece is in five movements, though the tempo never changes, only the note value of the constant pulse in the pianos. Thus, an arch form: sixteenths, eighths, quarters, eighths, sixteenths. Music for Ensemble and Orchestra is modeled on my Runner of 2016 which has the same five movement form.
Press Quotes
San Francisco Chronicle
"stunning new masterpiece"
"there was nothing to do but gawp in wonderment at what Reich achieved. Yes, this is a beautiful and dramatically charged masterpiece, but its impact goes even further than that.
"It's the finest thing he's done in years."
"Reich interweaves the two groups to create a dense textural tapestry that sounds like his most native orchestral thinking to date."
Los Angeles Times
"You knew only one composer could have written this."
"A metaphor for the rhythmic process might be cell division, an aural sense of multiplication producing a life force. That was especially apparent at the end when the orchestra began a kind of vibratory activity in shifting tone colors. The organism was whole and was starting to wiggle away on its own. The effect was brilliant."
San Francisco Classical Voice
"What Music for Ensemble and Orchestra displays most brilliantly is the work of a master craftsman who has developed his technique over the course of a lifetime: the piece shines like a multifaceted jewel."
Musical America
"exquisitely crafted"
"Both contrapuntally and in his textural interweave, Reich evokes Bach's Brandenburg Concertos, though the counterpoint's focus is rhythmic rather than thematic and the timbres echo models from jazz and gamelan orchestra alike."
New Yorker
"a vista of shimmering desert stillness"
Financial Times
"Best by far was Reich's new work, Music for Ensemble and Orchestra, which had its premiere earlier this month. Reich has never lost his intellectual rigour, and this new score is constructed on a foundation of strong principles. As an ensemble of strings, wind, two vibraphones and two pianos converse in an intricate dialogue, the orchestral background opens up a rich and wider soundscape. The work's multiple layers draw the listener in and do not let go, a rewarding addition to 50 years of minimalism, and given a fine performance here by Jarvi and the LSO.
Subjects
Recommended Recording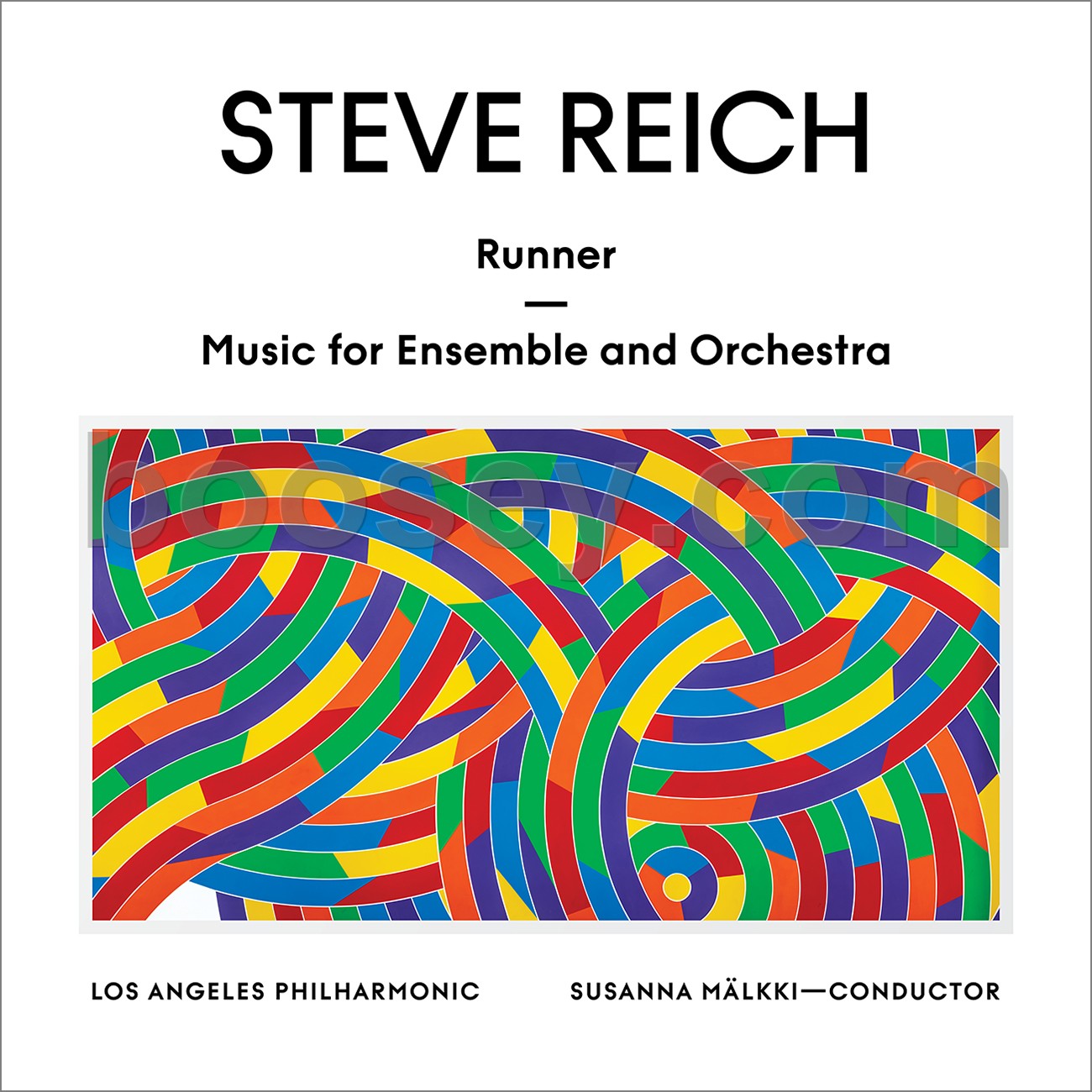 Los Angeles Philharmonic,
Susanna Mälkki, conductor
Nonesuch Records
News stories for this title:
Links