For Winds, Strings, Piano and Electric Bass
Duration: 16'
Scoring
2fl.2cl.pft.elec bass-strings(2.2.2.0.0)
Abbreviations (PDF)
Publisher
Boosey & Hawkes (Hendon Music)
Territory
This work is available from Boosey & Hawkes for the world.
Availability
World Premiere
11/1/2016
Carnegie Hall, New York, NY
ICE / David Robertson
Composer's Notes
Pulse, for winds, strings, piano and electric bass, was completed in 2015 and was, in part, a reaction to my Quartet of 2013 in which I changed keys more frequently than in any previous work. In Pulse I felt the need to stay put harmonically and spin out smoother wind and string melodic lines in canon over a constant pulse in the electric bass and or piano. From time to time this constant pulse is accented differently through changing hand alternation patterns on the piano. All in all, a calmer more contemplative piece lasting about 16 minutes.
As is well known, composing is primarily a solitary activity. However, after completing Pulse, I sought out suggestions for improving the piece from Maggie Heskin, my editor at Boosey and Hawkes. She offered several ideas which helped motivate me to find my solution of hand alternation patterns mentioned above. I want to thank Maggie for her thoughtful and generous help.
Steve Reich - 2015
Commissioned by Carnegie Hall; the Los Angeles Philharmonic Association, Gustavo Dudamel, Music Director; the Barbican, London; KölnMusik - Kölner Philharmonie; and Philharmonie de Paris
Press Quotes
"Pulse, for small ensemble, begins with the strings making swooping lyrical lines, as at the start of Appalachian Spring: The mood is one of emerging, arising. A gentle, yes, pulse – quick but not pounding – emerges behind it, soon joined by a meatier, lower throb in the electric bass." —New York Times
"Beauty is a consistent quality of Reich's recent music, and the most beautiful of all has to be Pulse, which was simple and luminous." —New York Classical Review
"…this 15-minute work sounds unlike almost anything else in Reich's catalog. Pulse is built around
long, tenderly arching melodies and spacious harmonies…" —San Francisco Chronicle
"The lyricism, gorgeous instrumental textures and affecting harmonies are not exactly easy listening but
genially and spiritually alluring. The genius of Pulse is that you never really know where the score is
going, just why it is going there." —LA Times
"Pulse felt like a rapturous extended song – one with enough confidence to end with the feel of reverie, as opposed to Reich's traditional headlong-rush climax" —The Guardian
Recommended Recording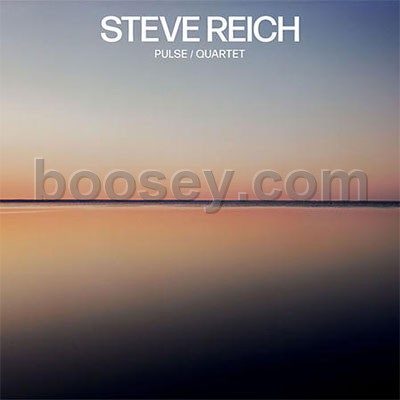 International Contemporary Ensemble
Nonesuch Records 565676
Purchase the album from the Nonesuch Records website
Links