Opera in two acts for young people to play and sing
Duration: 50'
Music Text
Libretto by the composer from a short story by George Mackay Brown (E,F,G,I,S)
Scoring
S,T,2Bar,B or 5 children; children's chorus;
2.1.2.1-1.2.1.0-timp.perc(6):2glsp/marimba/xyl/4tpl.bl/2wdbl/2brandy glasses/SD/BD/tam-t/4susp.cym/cyms/choke cym/tamb/flex/referee's whistle/swannee whistle/football rattle/guiro/nightingale/beaters and scrapers including a pair of knitting needles/vln bows/plastic soapdish/brushes-pft(=metronome,plectrum)-2vln(to be played by the singers of the Two Fiddlers if possible).string quintet or sm all string orchestra-bagpipes(optional) (all instruments intended to be played by children)
The opera may also be performed with piano and two violins only.
Reduced version (Philipp Vandré):
S,T,2Bar,B; children's chorus;
trumpet, bassoon, violin 1 (=Fiddler parts),violin 2 (=Fiddler parts), viola, cello, piano, percussion(2)
(Singers and musicians are professionals, chorus is made up of children).
Abbreviations (PDF)
Opera
For full details on this stagework, including synopsis and roles, please visit our
Opera
section.
Publisher
Boosey & Hawkes
Territory
This work is available from Boosey & Hawkes for the world.
Availability
World Premiere
6/16/1978
Orkney Arts Theatre, Kirkwall, Orkney
Kirkwall Grammar School / Norman Mitchell
Subjects
Recommended Recording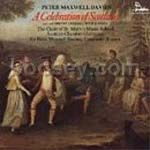 Scottish Chamber Orchestra, Peter Maxwell Davies
Unicorn-Kanchana DKPCD9070 (Dances only)
News stories for this title: