Fantaisie mécanique
(1994, rev.1997)
for five instrumentalists
Duration: 13'
Scoring
tpt.trbn-perc(2):tamb/2timb/3tom-t/TD/BD/3timp/vib/xyl/t.bells/tgl(lg)/3cyms/2tam-t(lg,sm)/thundersheet(lg); tamb(sm)/2bongos/3small drums/TD/BD/3timp/wind chimes(glass)/Steinspiel/2tgl(sm,med)/3cyms/tam-t(med)/thundersheet(med)/glsp/marimba-pft
Abbreviations (PDF)
Publisher
Boosey & Hawkes
Territory
This work is available from Boosey & Hawkes for the world.
Availability
World Premiere
12/2/1994
Centre Georges Pompidou, Paris
Soloists of the Ensemble Intercontemporain
World premiere of version
6/8/1997
Cité de la Musique, Paris
Ensemble intercontemporain / David Robertson
Composer's Notes
Intrada
I – variation, presto con brio<
II – variation, prestissimo
III – variation, fließend
Aria with intervals of a fourth – andante, scherzo delicatezza, precipitoso
Little study for keyboards – allegro con leggierezza, allegro con moto
Episode with metallic elements – andante sussurando
Improvisation on seven metres
Premièred on 2 December 1994 in Paris by the Ensemble Intercontemporain, Fantaisie mécanique – scored for trumpet, trombone, piano and percussion – is as the title suggests, a union of two contradictory concepts: improvisation and predetermined structure. Whilst giving the illusion of free expression, the work actually adheres to the strictest virtuosity and ensemble playing of the performers. The Intrada is based on a group of four low-pitched sounds, which act as a central core to the work, constituting a "hidden" chromatic current that animates the work throughout. Each subsequent musical idea contains, like the Intrada, mechanically constructed figures whose development is also "mechanical", onto which is grafted a polyphony formed of anything up to eight parts. At the same time, in the final Improvisation the seven metres utilised during the course of the work, combine to form a polyrhythm.
Unsuk Chin
Reproduction Rights
This program note can be reproduced free of charge in concert programs with a credit to the composer
Recommended Recording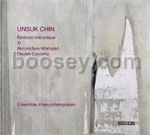 Ensemble Intercontemporain / Patrick Davin
KAIROS 0013062KAI
Links