for piano and orchestra
Duration: 25'
Scoring
2(II=picc).2(II=corA).2.2-2.2.2.1-perc(2-3):xyl/marimba/glsp/vib/ant.cym/lithophone/2tgl/2susp.cym/2tam-t/maracas/4wdbl/glass wind chime/6cowbells/t.bells/2plate bells/tamb/4bongos/sm tom-t/3SD/TD/timp/BD-cel-harp-mandolin-strings (either 8.8.6.6.4, 4.4.4.4.2 in smaller venues, or 2.2.2.2.2 with ensemble)
Abbreviations (PDF)
Publisher
Boosey & Hawkes
Territory
This work is available from Boosey & Hawkes for the world.
Availability
World Premiere
6/6/1997
St. David's Hall, Cardiff
Rolf Hind, piano / BBC National Orchestra of Wales / Mark Wigglesworth
Composer's Notes
Following my first three etudes for piano, this is my second major work for piano – an instrument which has fascinated me since the age of four. This composition reflects the influences of every epoch in piano literature - from Scarlatti to the present. I wanted to emphasize particularly the vitality, kinetic and virtuoso aspects - in short, the playful side - of the piano. The solo part shows no evidence of the Romantic tradition, where the brilliant solo line is merely accompanied by the orchestra. Here every orchestral part has an important function.

The four movements each have a very distinctive character. A common feature, however, is that none has a predetermined structure. Each movement develops spontaneously from a common cell, where simple rules produce highly complex, unpredictable results.

First movement: a prelude to the work. At the beginning there are four motives based on a triad, which - like a puzzle - are put together geometrically. These passages are interrupted by far-away sounds, which gradually increase in volume and importance. These varying layers of sound also have varying rhythmic patterns. At the end of the movement a rhythmic motif previously introduced in the percussion section is taken over by the piano and transformed into a virtuoso display by the soloist, exploring all the sonorities of the instrument. The conclusion consists of a metamorphosis of the beginning of the movement.

The second movement is a tone painting with a virtuoso interlude, which divides the movement into two segments. In the first section numerous layers of sound are introduced, complementing and opposing one another. The interlude presents a marked contrast to the static sonorities at the opening and closing of the movement.

In the third movement 30 markedly differing motives are introduced in mosaic fashion and two constantly recurring tutti chords act as pillars, holding the entire movement together.

In the concluding fourth movement an approximately two-minute long sustained F provides the pedal point for a gradual build-up. The piano has passages that sound improvisatory, with accompanying ostinato. Gradually a rhythmic pattern develops in the strings, eventually veering away from the central pitch of F and changing into short and interlocking motives. The movement concludes with a quasi improvised cadenza for piano, brass and percussion, followed by a typically classical coda.

This concerto was written in the winter of 1996-97, commissioned by the BBC for the BBC National Orchestra of Wales.

Unsuk Chin

Reproduction Rights
This programme note may be reproduced free of charge in concert programmes with a credit to the composer.
Recommended Recording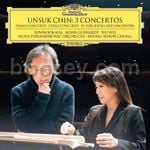 Links