Piano Sonata No.3
(2010/11)
Duration: 11'
Publisher
B&B
Territory
This work is available from Boosey & Hawkes for the world.
World Premiere
10/9/2011
Philharmonie, Alfried Krupp Saal, Essen
Fabio Martino, piano /

Composer's Notes
My Third Piano Sonata was written as a commission for a piano competition sponsored by the Kulturkreis der deutschen Industrie (Cultural Circle of the German Industry). The winner of this competition, the young Brazilian pianist Fabio Martino, premiered it on 9 October 2011 in Essen's Philharmonie. Like my Second Sonata, the work is in one movement but, with a duration of ca. ten minutes, of smaller format. The pianistic demands, however, are comparable. This is also true of the form that, in turn, is not based on the dualistic principle that characterizes the classical sonata form, but rather on the principle of the "permanent development." After a calm, freely fashioned, quasi "improvisational" introduction, the first elements of a tonal structure establish themselves at the beginning of the main section (quick tempo) in fast pendulum motions of minor and major seconds. This is made up of a total of thirty notes, divided into four groups of tones of different length out of which result the chords that essentially constitute the piece. Also in the translation of the tonal structure into a temporal structure (arrays of measures), the process resembles that employed in the Parita. The main part is divided into several sections and, analogous to this, passes through various stages of expression. Out of the alternation of the playful-virtuoso and lyrical-restrained moments as well as of the dramatic outbursts and an excessive intensification (toward the end), a form arises in which perhaps something of the "most intensity-rich human world in music," as Ernst Bloch put it, is expressed, which was and is my primary goal in my works.
Recommended Recording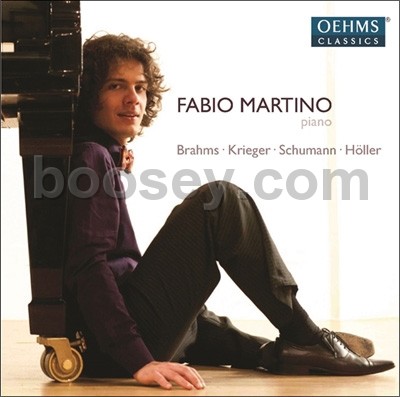 Fabio Martino
OEHMS Classics OC 427