Henryk Mikolaj Górecki dies in Katowice, aged 76
(November 2010)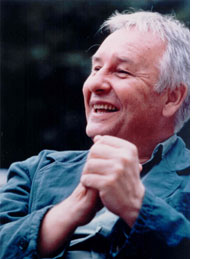 Boosey & Hawkes is sad to announce the death of leading Polish composer Henryk Mikolaj Górecki, who passed away aged 76 on 12 November 2010 in Katowice after a long illness.
Górecki's early output saw him as a leading composer of the Polish avant-garde in the 1950s and he reached a worldwide audience in the 1990s thanks to the success of his Symphony No.3 'Symphony of Sorrowful Songs'. The work was composed in 1976, and was at that time shocking in its tonality and simplicity, but it was not until1992 that its elegiac power attracted international attention through a Nonesuch recording, selling more than a million copies and climbing to the top of the classical music charts in both the US and the UK. It also reached number six on the mainstream UK album chart.
After musical studies in Rybnik and Katowice, HM Górecki's compositions first made their mark in the mid-1950s when he found himself at the forefront of the Polish avant-garde at the time of the post-Stalin cultural thaw. His early works show a clear development from the folk-influenced worlds of Szymanowski and Bartók in the Four Preludes for piano (1955) and Songs of Joy and Rhythm (1956) to the modernist techniques of Webern and Boulez in Epitafium (1958) and Symphony No.1 (1959), both premiered at the Warsaw Autumn Festival. During the 1960s Górecki continued in a radical direction in the Genesis (1962-63) and Muzyczka (1967-70) cycles of works, whilst paring down his compositional material and exploring the folk music traditions of his beloved Tatra region in such works as Three Pieces in Old Style (1963) and Muzyka staropolska (Old Polish Music) (1967-69).
The simple yet monumental style for which Górecki is today renowned became fully established in the 1970s with such works as Symphony No.2 'Copernican' (1972), the much lauded Symphony No.3 'Symphony of Sorrowful Songs' (1976) and the large-scale Psalm setting for chorus and orchestra Beatus Vir (1979), written for Pope John Paul II's visit to Poland. With his withdrawl from public life due to political and health pressures, the early '80s saw Górecki concentrating on choral settings and chamber music, including his trio Recitatives and Ariosos 'Lerchenmusik' (1984-85).
As a result of Poland's increasing political emancipation in the late 1980s, Górecki's music travelled more widely and attracted new performers and audiences in the West. This renewed interest led to the composition of three major string quartets, Already it is Dusk (1988), Quasi una fantasia (1991) and ...songs are sung (1995). Górecki signed a publishing contract with Boosey & Hawkes in 1988, leading to collaborations with the Kronos Quartet and Nonesuch's best-selling recording of Symphony No.3 featuring soprano Dawn Upshaw and the London Sinfonietta conducted by David Zinman.
Górecki's most noted compositions of recent decades included Concerto-Cantata (1992) for flute and orchestra, Kleines Requiem für eine Polka (1993) recorded by both the Schoenberg Ensemble on Philips and the London Sinfonietta on Nonesuch and Salve, Sidus Polonorum (1997-2000) for chorus, percussion and keyboards.
His music is today performed throughout the world including Górecki features at numerous international festivals, many choreographies to his music, and a series of highly successful recordings on the Nonesuch label.

Górecki was the subject of a recent BBC TV documentary in the Sacred Music series by The Sixteen presented by Simon Russell Beale, including Totus Tuus. His death leaves an incomplete Symphony No.4, commissioned by the London Philharmonic Orchestra and Southbank Centre, London, The Los Angeles Philharmonic Association: Gustavo Dudamel, Music Director, and the ZaterdagMatinee, Dutch radio's classical music concert series in the Amsterdam Concertgebouw.
Górecki is survived by wife Jadwiga, daughter Anna a pianist, and son Mikolaj a composer.
Read other obituaries:
> The Guardian (13 Nov 2010)
> New York Times (12 Nov 2010)
> Daily Telegraph (13 Nov 2010)
> The Independent (13 Nov 2010)
> The Times (13 Nov 2010)
> Washington Post (12 Nov 2010)
> More information on Górecki's music
> Listen to Górecki's music
> Górecki recordings on Nonesuch
Photo: Gerry Hurkmans

Boosey & Hawkes Composer News